SILENT 55 – New upgraded version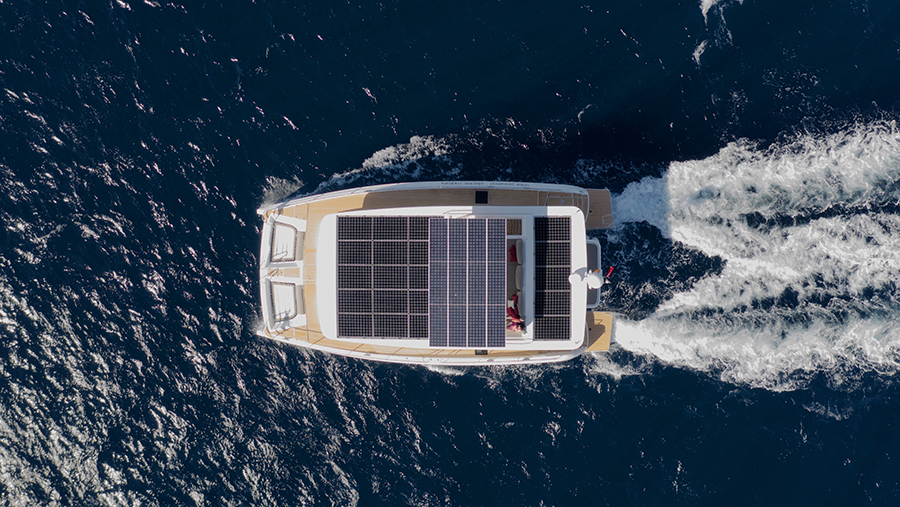 SILENT 55 – New upgraded version – SILENT-YACHTS, the innovative Austrian company that produces the first and only oceangoing solar-electric production catamarans in the world, is delighted to announce that the new upgraded version of the SILENT 55 will attend the Cannes Yachting Festival 2019, from September 10-15, for the world premiere.
The yacht uses silent electric propulsion for unlimited range with no noise or fumes and minimal vibration, she is self-sufficient and virtually maintenance-free.
MORE POWER, MORE COMFORT
The new SILENT 55 has a completely revised drive-train with significantly more battery power, two times more powerful e-motors, structural improvements and significantly better noise reduction compared to the previous 2018 version.
"Our best-selling 16.7-meter innovative solar electric catamaran has been upgraded and become even better than it used to be", said Michael Köhler, SILENT-YACHTS Founder and CEO. "We did these updates and changes because we always try to improve and to install the best and latest technology available to satisfy our clients. We have built one new SILENT 55 already and we've got three more order for this model, which shows that we're heading the right direction".
Among other features, the new SILENT 55 has a pair of 250 kW e-motors, 210 kWh battery capacity. The shipyard has also enhanced noise reduction and made structural improvements to ensure the ride and guests' experience is as comfortable as ever.
With 30 high-efficiency solar panels rated for approximately 10 kilowatt-peak, the SILENT 55 uses maximum power point tracking (MPPT) solar charge regulators and lithium batteries, which provide capacity for all-night cruising, while a 15-kVA inverter provides power for all household appliances. The systems require hardly any maintenance and produce no fumes or noise. Because of that, the operational costs of the vessels are substantially lower compared to power yachts using more traditional propulsion systems.
"What this represents to the yachtsman, among other features, is the ability to cruise for many hours at normal speed and throughout the entire day and evening at reduced speed", Michael Köhler comments. "SILENT-YACHTS sets the standard for an entirely new dynamic in yachting: No fuel. No maintenance. Pure solar powered luxury."
The SILENT 55 that will attend the Cannes Yachting Festival 2019 has a standard layout with large airy saloon on the main deck and four spacious cabins below decks, including a full beam master suit in the bow area.