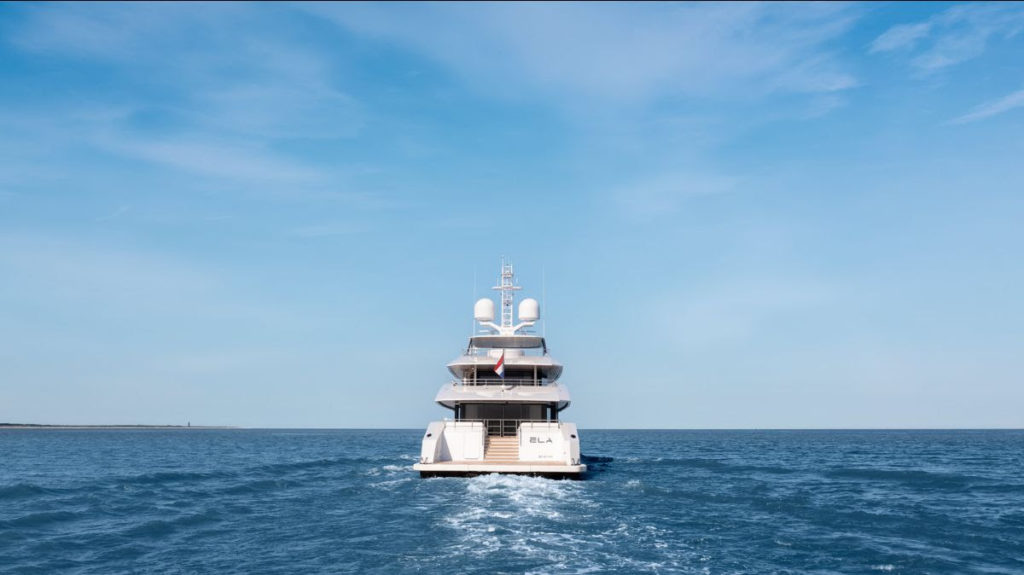 MY ELA – This magnificent yacht set sail from the Netherlands in July with her crew, and after meeting her owners in Gibraltar, will spend the summer cruising in the Mediterranean. Primarily intended for family use, ELA will also join the charter fleet of Zarpo Yachts to be available for selected clients.

At 50 metres overall with a lightweight, aluminium, fast-displacement hull, she is the second in Heesen's sub-500GT Nova Plus class, a design that emphasizes performance and efficiency, powered by twin MTU 2000-series M72 V12s. Her remarkable maximum speed of just under 20 knots, frugal fuel consumption, and a draft of just 2.15 metres makes her the most efficient yacht of her type built in the Netherlands.

A distinguished yacht with a striking profile characterized by a vertical bow and bold spray rails, along with her Dutch pedigree as a guarantee of premium quality, ELA was also available with a remarkably short delivery time when she caught the attention of her owners. With just three months between purchase and delivery, they worked with interior designer Cristiano Gatto and the Heesen team to personalize the yacht to suit their family requirements.

"Together with the client, we revisited all the loose furniture, inside and out, selecting new materials for all the upholstery and the key items from Paola Lenti, B&B Italia, Poltrona Frau, and Promemoria," said Cristiano. "But more importantly, we designed bespoke pieces, such as tables, sofas, and lamps, all beautifully crafted by Italian ateliers, who delivered them in record time."


ELA's twelve guests are accommodated in six staterooms, with the owners' suite on the main deck forward and the remaining five cabins  – a full-beam VIP, two doubles and two twins – on the lower deck.

Besides the beauty of her design, ELA is also the first Heesen to sport a peak-shaving battery system. "This, in my opinion, makes the yacht genuinely efficient and more sustainable," says Peter van der Zanden, head of Design & Development at the shipyard.
 
There are numerous practical advantages offered by this so-called 'virtual generator': 
Seamless storage of energy
As the yacht's load fluctuates, excess generator power is stored, to be used during peak periods when power demand exceeds generator output, without the need for additional generators to come on line.
Improved generator efficiency, lower emissions
This intelligent power management reduces generator use and therefore emissions, lowering fuel and maintenance costs.
 
"At Heesen, we believe in continuous research and constant innovation," says Peter. "We strive to refine our yachts and present the owners with solutions that are at the forefront of technology, to improve efficiency and enhance the on-board experience."
 
Friso Visser, Heesen CCO, comments: "ELA is a magnificent addition to the Heesen fleet. We are very strong in this particular segment of the market – 50-metre all-aluminium yachts below 500 GT – and ours are recognized as the best in this market sector. Our delivery team worked seamlessly with Captain Antonio Gerini and Tony Lovec Management to deliver the yacht without fuss and on time for the summer season. On behalf of everyone at Heesen, I would like to wish the owners and their crew many happy days with family and friends wherever they may cruise!"