Venice Hospitality Challenge
Venice Hospitality Challenge, ten years on the crest of the wave
Venice Hospitality Challenge- The only regatta in the world that takes place entirely in the internal
waters of a city reaches an important milestone this year.
The tenth edition of the Venice Hospitality Challenge celebrates the success of a high-level sporting event which sees the participation of famous sailors and the public's appreciation grow year after year.
During the press conference which took place yesterday at the Palazzo delle Zattere in Venice, the president of the Venice Yacht Club Mirko Sguario surprisingly confirmed the mooring of all boats,
starting from Thursday 12th, at the Zattere quay where the headquarters of the event will be
established. For the first time the public will be able to admire all seventeen boats up close – with
lengths between 20 and 34 metres – located in a central point of the Serenissima.

The start for the seventeen maxi yachts in the race will be given on Saturday 14 October at 1.30 pm
and will be marked, as per tradition, with the powerful jets of water from the tugboats near Punta
della Salute. The regatta committee will be chaired by Tito Morosetti assisted by the regatta
officials Gianfranco Frizzarin and Emilia Barbieri.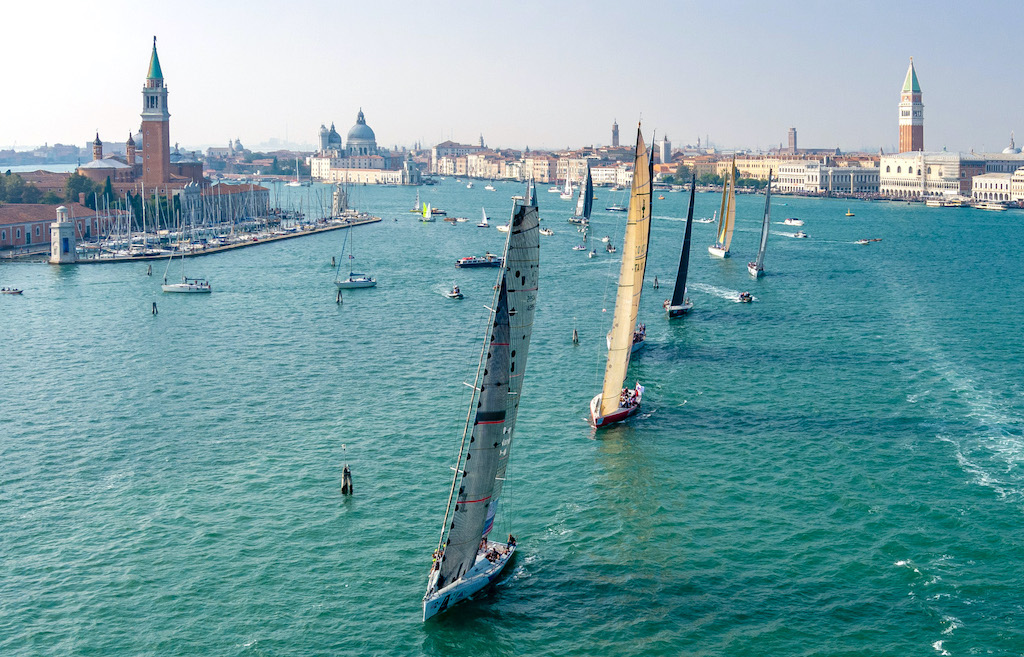 The tenth edition of the regatta features, as always, the most important 5-star Venetian hotels:
Alajmo Ristorante Quadri, Aman Venice, Bauer Palazzo, Ca' di Dio VRetreats, Ca' Sagredo Hotel,
Hotel Danieli, Hotel Excelsior, The Gritti Palace, London Palace, JW Marriott, Nolinski Venice,
Palazzina, St. Regis, SINA Centurion Palace and Golden Violin. Skippers and crews will compete
for the Doge's Hat, which for this tenth edition was created by the historic Murano glassworks
Berengo Studio.
To celebrate the tenth edition of the regatta, the exhibition "Venice Hospitality Challenge: the Tenth
Anniversary" was set up. Curated by Patrizia Zambelli, the exhibition intends to be the showcase of
a major sporting event linked to seafaring and hospitality to relive those emotions that only large
sails in the fantastic setting of Venice can make unforgettable. The public will be able to admire the
most beautiful and exciting shots of the photographers who for ten years, each with their own gaze,
have interpreted the famous event organized by the Venice Yacht Club. On display is the "Doge's
Hat", a coveted prize created for this edition by Berengo Studio and other works of art by the masters of the most famous Murano glassworks. There will also be a roll of honor of the winners, photos of the participating hotels, a collection of posters and other memorabilia. Palazzo delle Zattere, from 30 September to 15 October 11.00am-5.00pm with free admission. Institutional partners and patronages: Municipality of Venice, Veneto Region, Port Authority, Italian Sailing Federation.