Best worldwide charter destinations for 2021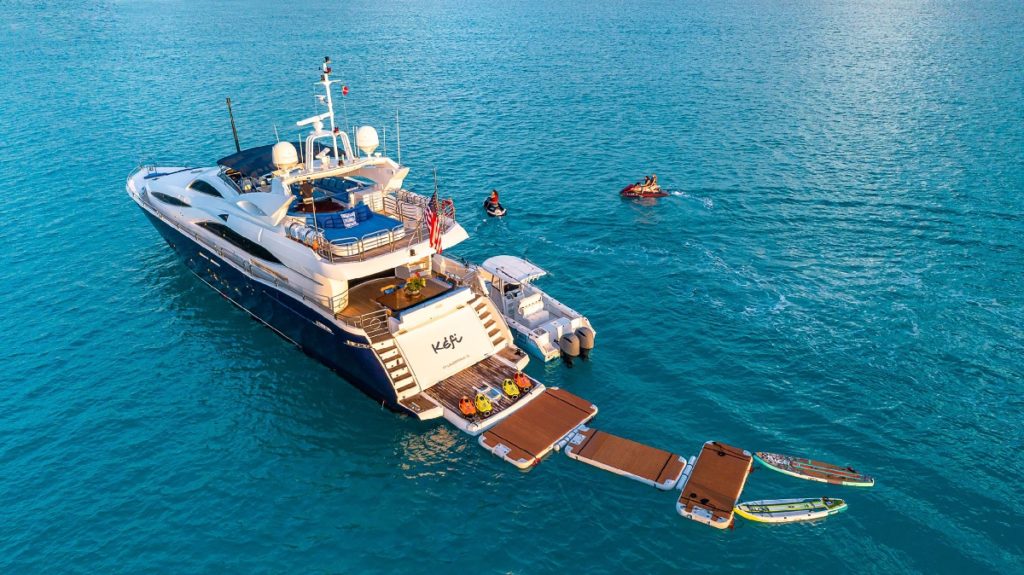 DENISON YACHTING SUGGESTS BEST CHARTER DESTINATIONS FOR 2021
Best worldwide charter destinations for 2021  – Countries are welcoming back tourists as travel restrictions slowly ease up. One of the safest ways to travel is by luxury yacht charter. A highly trained crew maintains rigorous health and safety standards on board, creating a safe and socially distanced vacation. On top of that, Denison charter guests and superyacht clients can access first-class options for arriving to and from their yacht or destination with Tropic Ocean Airways. This benefit lets guests bypass crowds and long lines in airports. Consider one of these top 10 yacht charter destinations for 2021. Keep in mind that travel restrictions are constantly evolving and a country's entry requirements are subject to change.
1. Florida Keys
Chartering a yacht in the Florida Keys means cruising along the Atlantic coast to Key Largo, Islamorada, and Key West. This is one of the best spots for snorkeling, fishing, and diving in the continental United States. Key Largo is known for having the best scuba diving in Florida, so ask your captain about booking a dive excursion during your charter. In Key West, take advantage of snorkeling through colorful coral reefs, watching incredible sunsets, and learning about Florida's history. The laidback lifestyle of the Florida Keys makes it one of the best charter destinations in 2021.
Best Florida Keys yacht charter: IL CAPO | 110′ Broward Marine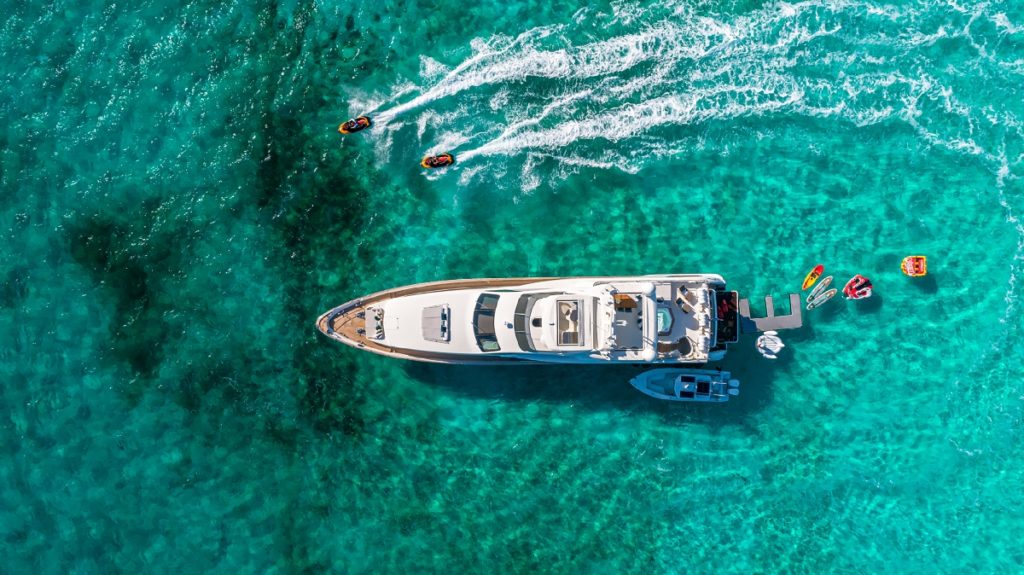 2. The Bahamas
Good news, the Bahamas are open to US citizens. Before arriving, each traveler must submit a Travel Health Visa Application that requires a negative RT PCR COVID-19 test result. A yacht charter to the Bahamas is one of the safest and most private ways to travel through the Caribbean. Fill your days with snorkeling, laying on quiet beaches, and enjoying cocktails on the sundeck of a luxury superyacht. Your charter itinerary may include visits to Norman's Cay to snorkel around an airplane wreck, Compass Cay to swim with nurse sharks, and Big Majors Cay to feed the friendly wild pigs.
Best Bahamas yacht charter: EXCELLENCE | 150' Richmond 2010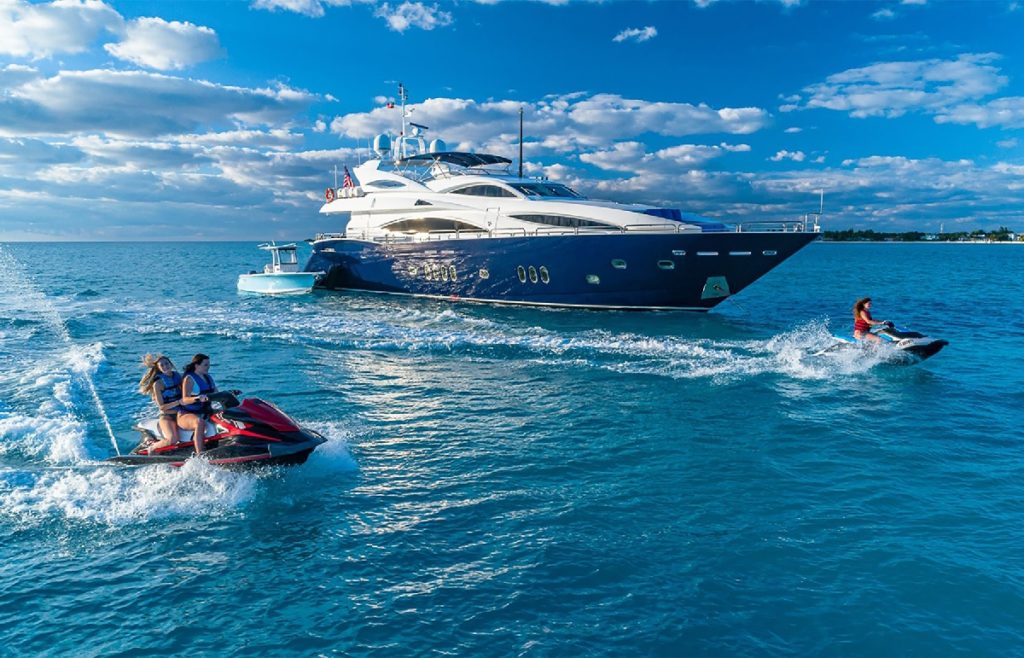 3. British Virgin Islands
The British Virgin Islands opened to tourists on December 1, 2020, making it a top yachting destination in 2021. Travelers must obtain a BVI Gateway Travel Authorization Certificate prior to arrival and a negative RT PCR COVID-19 test. Once you arrive safe and sound, expect gorgeous weather and turquoise waters. Denison's Virgin Islands yacht charter itinerary includes amazing beaches, snorkeling spots, uninhabited cays, hiking trails, shops, and restaurants to visit by yacht. One of the best spots to visit in the BVI is Jost Van Dyke, where you can walk along the powder sand beaches and stop by Soggy Dollar Bar, home of the original Painkiller.
Best BVI yacht charter: BUNDALONG | 80′ Sunreef 2019
4.  New England
Eager to trade big cities for charming coastal towns? Escape to New England. Summertime in the Northeast United States is simply beautiful, making it one of the top yachting destinations of 2021. A New England yacht charter may include stops in Newport for incredible seafood, Block Island for timeless architecture, or Nantucket to visit the whaling museum. Get your fill of US history and quaint coastal towns packed into one yacht charter experience.
Best New England yacht charter: KEFI | 105′ Sunseeker 2004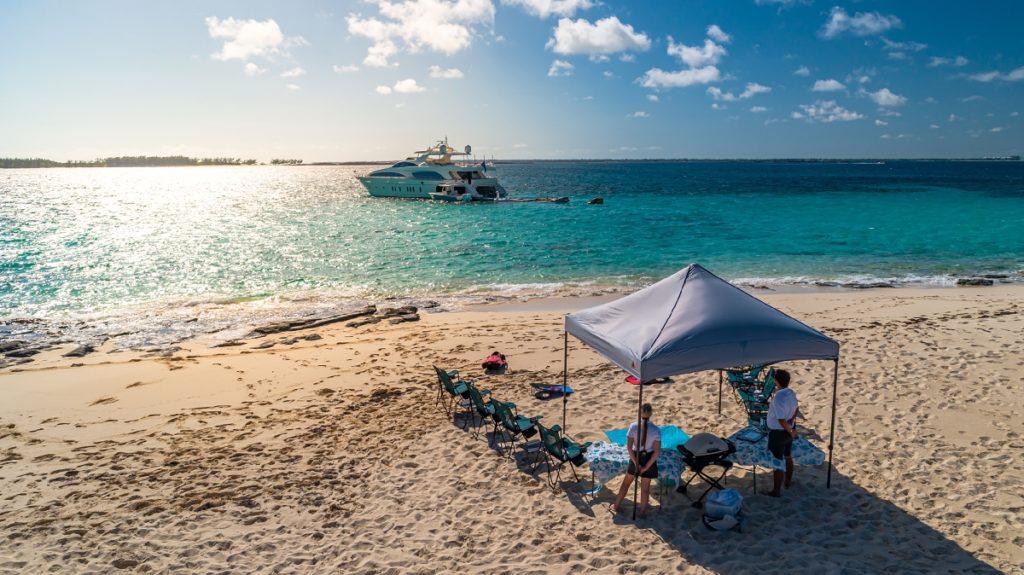 5.  Mexico
Visitors arriving to Mexico are subject to temperature checks upon arrival and those showing symptoms may be asked to quarantine voluntarily. Fly into Cabo San Lucas and head straight for a superyacht charter to enjoy a luxurious and exclusive Mexico experience. Swim with exotic fish, eat fresh food, and sink your feet into white sand beaches. You're bound to come back from a Mexico charter destination with a golden glow and relaxed state of mind.
Best Mexico yacht charter: JERSEY GIRL LI | 65′ Irwin Yachts 1984
6.  Croatia
Croatia is open to foreign visitors. All travelers (regardless of citizenship) must complete an arrival form and present a negative RT PCR COVID-19 test result within 48 hours of arrival. US citizens are not required to quarantine. Croatia is one of the world's best yachting playgrounds — the breathtaking coastline and blue-green colors of the Adriatic sea are hard to resist. Enjoy fine dining in Dubrovnik, swim in the crystal clear lakes of Mljet, and explore the fortresses of Hvar. A Croatia yacht charter gives you the best of the Dalmation Coast — excellent snorkeling, playtime with yacht toys, and a salty breeze.
Best Croatia yacht charter: KATARIINA | 89′ Ferretti 2004
7.  Turks & Caicos
Turks & Caicos is comprised of more than 40 islands surrounded by brilliant blue water. The islands are relatively untouched thanks to a small population. A Turks & Caicos yacht charter is filled with tropical vegetation and nature, private land tours, whale watching, and dive adventures at The Wall. All visitors over 10 years old must show a negative test result taken in the past five days and apply for TCI travel authorization. Tourists must have insurance that covers COVID-19 related medical costs and fill out a travel authorization form prior to arrival by plane. Once you and your guests are clear to head to your superyacht, it's all sun, smiles, and snorkeling for the next few days.
Best Turks & Caicos yacht charter: MR.GV | 65′ Sea Ray 2016
8.  Alaska
An Alaskan yacht charter is a totally unique experience. The area is known for its diverse landscape of mountains and forests with abundant wildlife and small towns. On a yacht charter around Alaska, experience whale watching, hike through national parks, and relax in hot springs. There's no better way to see Alaska than by luxury yacht charter. It's an incredibly scenic, isolated, and memorable vacation destination.
Best Alaskan yacht charter: KAYANA | 121′ Vosper Thornycroft 2007
9.  Leeward Islands
A travel bubble is set among Caribbean countries (CARICOM) to include Antigua and Barbuda, Barbados, Dominica, Grenada, Montserrat, St. Kitts and Nevis, and Saint Lucia and the Grenadines. That means visitors traveling to one of those countries are not required to take COVID-19 tests or undergo quarantine to travel to countries within the Bubble. This makes it easy to island-hop.
The Leeward Islands are located between Puerto Rico and Dominica on the northeastern rim of the Caribbean Sea. Among the islands is a range of destinations including Antigua and Barbuda, St.
Barths, and St. Kitts and Nevis. Each island destination is different, yet their close proximity and calm waters create perfect cruising grounds. A Leeward Islands yacht charter means you'll get to experience white sand beaches, crystal clear water, and tropical wildlife. Don't forget the sunscreen for this top yachting adventure in 2021.
Best Leeward Islands yacht charter: BELLA VITA | 105′ CMN
10.Costa Rica
A true adventurer will be eager to charter a yacht in Central America, and Costa Rica is one of the best destinations. Visitors must complete an online Health Pass 48 hours prior to travel to Costa Rica. A negative PCR test is not required upon entry, but tourists must provide proof of a medical insurance policy to cover any COVID-19 related medical treatment. Costa Rica is a rugged, rainforested country filled with ancient ruins, excellent surfing, and active volcanoes. Enjoy sun, adventure, and nature wrapped into one Costa Rica yacht charter.
Best Costa Rica yacht charter: SUPER | 100′ Azimut 2001
If you're eager to travel somewhere during 2021, do it in the safety, style, and privacy of a luxury yacht charter. When you charter a yacht to or at a foreign destination with Denison Yachting, the crew and charter management will help make your vacation as seamless as possible. A Denison charter broker will work with you to make it the safest possible yacht charter for you and your guests.