BENETTI M/Y "METIS", 63-METER CUSTOM YACHT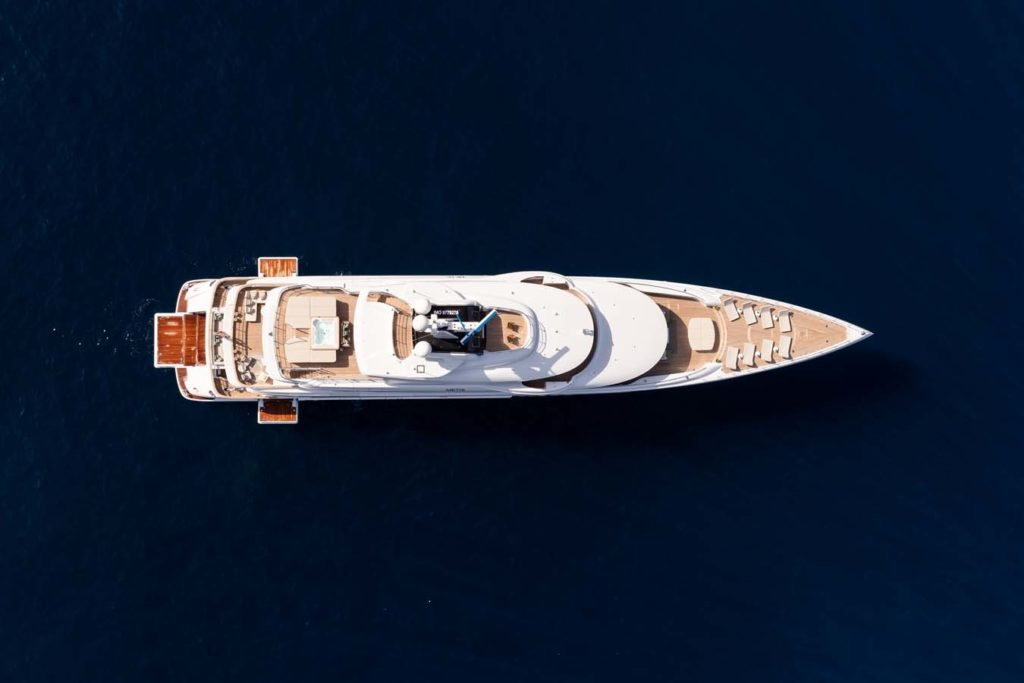 M/Y "Metis"is a 63-metercustom yacht with a steel hull, an aluminium superstructure and a five-deck layout.The personalized gym on the Fly Deck, the touch-and-gohelipad and the over 160 sq mowner's suite with two double beds and an externalterrace make "Metis" a truly one-of-a-kind Benetti.
The strikingly modern interior architectural designisby Bannenberg &Rowelland interior decorationisin collaboration withGermanBirgit OtteInterior.
The exteriors were designed by Giorgio M. Cassetta.Carbonfiber, polished steel and bleached oak graced byleather inlays are the materials chosen for this yacht.
M/Y "Metis"is a new statement of the Made in Italy excellence of the Benettishipyards. She is 63 meters long with a 10.60-meterbeam, a draft of 3.1 meters and a gross tonnage of 1,245tons. The boat's construction is the result of constantdialog between the owner (actively involved in the design of this elegant superyacht) and the engineers who listened to and satisfied his needs and were inspired by him to createt his megayacht, exquisitelyembodying the dynamicproportions of a boat with animpressively long and vertical bow.
"Metis"is a modernand timeless yacht with big volumesbehind fluidlinesand some highly innovative features.The design is minimalist yet typical of Benetti, who showed proof of their huge design capability by managing to put a personalized gym (that the owner only asked for when the yachtwas already at an advanced stage of construction)on the Fly Deck. Designed by Giorgio M. Cassettaand KurtLehmann, president of Yacht Moments, who introduced the ownerto Benetti, this facility enables guests to train both insideand outdoors: the sliding doors fore and aft and the dark-coloured sidewindows ensure total privacy and an unparalleled view of the sea.
The Bridge Deck, naturally shaded by the Fly Deck, features the pilot house, with two chart tables,and a captain's cabin, with a private bathroom of course. The exterior areas were designed for living outside at any time of day thanks to a spacious relaxation area withJacuzzi, sunbeds, a mini-bar, ice maker and a teppanbbq, ahigh-performance griddlethat allows guests to enjoy meals straight from the hob.
The Upper Deck has astriking lounge area with agrand pianoandabar: The interiors are rotated30-degrees with respect to traditional configurations and offer some unusual and surprising vantage points. Behind this area, large outdoorspaceswith a round dining tableand another relaxation zone are designed for conviviality, while the midshipsection and stern are dedicated to the owner, with a full beam suite guaranteeing absolute privacy. Covering over 160sq m, it's almostentirely framed by full-height panoramic windowsthat flood the setting with light. Itsdesign is based on acontemporary range of finishes in bleached oak, carbonfiberand polished steel together with Calacatta and Coffee Brown marble.
Its bold geometricforms are reprised in the stainless-steelbed frames, furniture and finishes. The spacious cabin has 2bathrooms, for Him and Her, one with a saunaand showerand the other with a bathtub.
The suite is completed by a55 sq mexternal terraceon the samelevel andatouch-and-gohelipad. The Main Deckoffers a new solutionfor kids:a play area and adouble cabin (with bathroom)opposite the mirror-image baby-sitter's cabin, which also has a study with armchairs and a small private terrace overlooking thesea. In the main lounge area, on the same deck, there's a big relaxation zonewith a backgammontable and a dining area with a long rectangulartable.
Further forward, thegarage opens out by way of a lateral hatch nearly two meters above the waterline and is capable of housinga 7.5-metertender and 2jetskis. Thisunusual positionis designed to facilitate landing operationswhatever the weather conditions.
The main characteristic of the Lower Deck, which has 4spacious cabinsand crew quarters for a total of 12 people, is thestern beach club & cabana. The special arrangement of furnishings here andthe two extending sideterraces,in addition to the stern platform, make this an original sea-view lounge of unprecedented dimensions. Propulsion isprovided by two 1,380 KW MTU12V engines delivering atop speed of 16 knots and a range of 5,000 nautical miles at a cruising speed of 12 knots.