Venice Hospitality Challenge 2020
 Venice Hospitality Challenge 2020 ready to start!
Venice Hospitality Challenge 2020- The flag of the Lion of San Marco returns to wave for the start of Venice Hospitality Challenge, the seventh edition of the Grand Prix sailing of the City of Venice, the only regatta held in the inland waters of one of the most famous cities in the world, the Serenissima. The regatta will be held on Saturday 17 October with a new record of participants: fifteen Maxi Yachts that have left their mark on the history of world sailing will be lined up on the starting line. Internationally renowned skippers will compete on the race course to compete for a prestigious victory and the now famous doge's hat, specially made this year by the historic Murano glass factory Signoretto.
The start of the race for 13.30 on Saturday 17 October and the fleet base will be the Marina Santelena while the San Marco basin, focal point of the route, will allow the public to follow a spectacular competition from the shores. The prize giving will take place at the "Zattere" at the VYP, Venice Yacht Pier in direct contact with the citizens at around 4.30pm.
To arbitrate a high-level competition, a unique international judge could not be missing: Alfredo Ricci, born in 1970, Stella d'Oro at sporting merit CONI, Umpire International, International Judge, International Race Committee, the only Italian racing official to have these three qualifications. From the race fields of the America's Cup and the Olympic Games, he will arrive in Venice to chair the Committee of the Venice Hospitality Challenge assisted by Emilia Barbieri and the national judge Gianfranco Frizzarin on board from the first edition.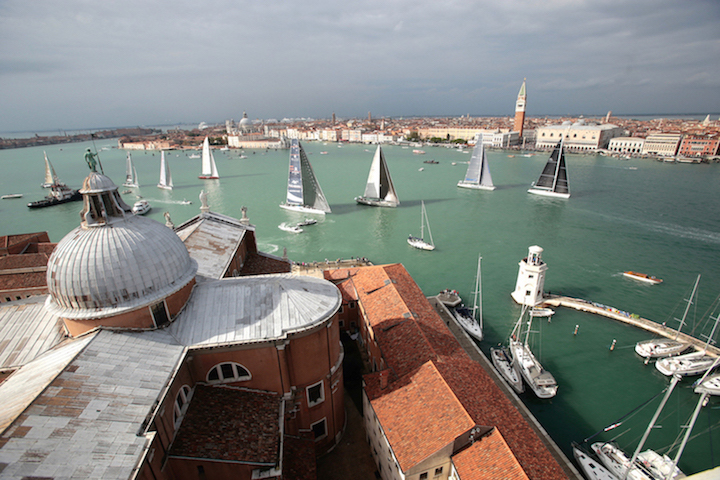 The event also this year involves the high Venetian hôtellerie which since the first edition has been alongside this event that brings together the passion for the sea and the love for this city. The hotels participating in this sixth edition are: Alajmo Restaurant Quadri, Bauer Palazzo, Ca' Sagredo Hotel, SINA Centurion Palace, Belmond Hotel Cipriani, San Clemente Palace Kempinski, Hotel Danieli a Luxury Collection Hotel, Hotel Excelsior Venice Lido Resort, The Gritti Palace a Luxury Collection Hotel Venice, Hilton Molino Stucky Venice, Hotel Londra Palace, Palazzina e The St. Regis Venice. The maxi yachts combined with the hotels are joined by the Moro di Venezia which will race for the Venice Boat Show while New Zealand Endeavor Covid19 will compete with a crew of Venetian doctors who have fought the pandemic.
Venice Hospitality Challenge 2020 – Participants
Maxi Yacht Hotel Skipper
Ocean Maxi Alajmo Franco Corazza
Pendragon Bauer Palazzo Carlo Alberini
Arca SGR Ca' Sagredo Hotel Furio Benussi
Anemos Allianz SINA Centurion Palace Guglielmo Danelon
Anywave Belmond Hotel Cipriani Mauro Pelaschier
E…vai San Clemente Palace Kempinski Massimiliano Pontani
Adriatic Europa Hotel Danieli Dusan Puh
Ancilla Domini Hotel Excelsior Andrea Straniero
Way of Life The Gritti Palace Gasper Vincec
Portopiccolo Tempus Fugit Hilton Molino Stucky Claudio Demartis
Kiwi Hotel Londra Palace Paolo Pesaresi
Idrusa Palazzina Paolo Montefusco
Tutta Trieste 2 The St. Regis Venice Mario Hrvoj
Il Moro di Venezia Salone Nautico Venezia Dudi Coletti
New Zealand Endeavour       Covid19                                               Valentino Maestrutti
"Everyone knows that Venice in its history had to face the plague and epidemics of various kinds" evokes Mirko Sguario, President of the Yacht Club Venezia and organizer of the event: "Yet, despite everything, the city did not stop. To honor our history and our deep-rooted traditions, with all the companies involved we will do our utmost for the best outcome of the regatta in full compliance with current regulations. In moments of difficulty, Venice has always looked up to the sea to rediscover its soul and its strength. And that is why I have never lost hope of being able to give life, this year too, to the best expression of VHC sailing, a sport that better than any other represents the essence of this city. "