PROJECT 406: THE STAGE IS SET
INSTALLATION OF THE 'BIG FISHER' SUPERSTRUCTURE  Prepares THE SCENE FOR the 'THEATRE OF THE OCEAN'
PROJECT 406: THE STAGE IS SET Monada 20th June saw the completion of another major step in the build of Project 406 – a magnificent 52m / 171ft six-deck, true sportfish superyacht, set to become the world's largest – when the main superstructure was skillfully lowered onto the hull by overhead cranes.
The carefully planned installation of the decks took place inside Hall 2 at the shipyard's headquarters in Vollenhove and was attended by the owner's team, naval architects, designers and specialist consultants alongside the team from Royal Huisman.
Preparation and fit-out of the remaining four decks of this amazing vessel is now underway. In parallel, the shipyard continues working on the board systems and other technical installations. The work includes innovative features and components, such as laser-powered exterior lighting. Everything will be brought together to complete the perfect fit in the period leading up to her launch in 2023.
Exceptional
Even in the exceptional world of superyachts, Project 406 stands out as a unique vessel. Not only will she be the largest but, without doubt, the most luxurious, finely appointed, meticulously engineered and impressive sportfish yacht anywhere in the world – with all the amenities expected of a superyacht. Her design is extremely distinctive, with a long bow and high bulwarks sweeping through a clear sheer to a low and uncluttered cockpit aft. The high tower offers outstanding views with a downward angle on the water for specialized fishing.
Apart from its practical function, the tower also offers a superb viewing platform for guests, who can follow all the action below. And a further element of surprise: a Sky Lounge that offers an impressive view at the daytime theatre of sportfishing. By night, the Sky Lounge provides the relaxed ambience and stunning outlook of the skies. Where else in superyachting might you expect to find that?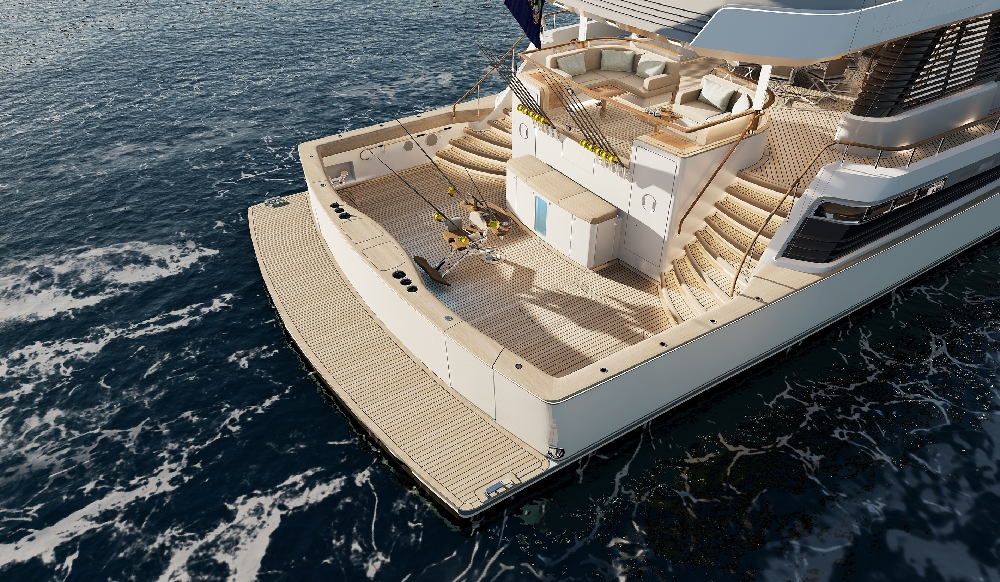 Teamwork
Vripack Yacht Design Studio are responsible for the project's naval architecture, as well as the dramatic exterior and yet-to-be-revealed interior design. Royal Huisman is the superyacht builder with a very capable and innovative engineering and production team well suited to delivering such an unique project. The shipyard team has worked together with the owner's representative and his other team members which include: Bush & Noble for expertise on sportfishing and classic yacht forms; Hampshire Marine for the day-to-day technical aspects at the shipyard. Strong cohesion and co-operation among these key players is well established – a clear indication of Project 406's continued smooth progress towards the fulfilment of her owner's aspirations. The project is markedly set to be a truly iconic yacht upon delivery.
Production flexibility
A shipyard team of over 300 individual experts with an extraordinary array of talents and expertise means that Royal Huisman can carry out much of its engineering and production work in-house. Yet, to achieve fast, cost-efficient and optimally coordinated production, flexibility is vital. A good example is Project 406's now fitted Alustar® aluminum superstructure. Its specification was prepared and detailed by Royal Huisman's engineering departments. Its production was outsourced to one of many highly qualified co-makers, demonstrating collaboration and efficiency in action to meet key client objectives.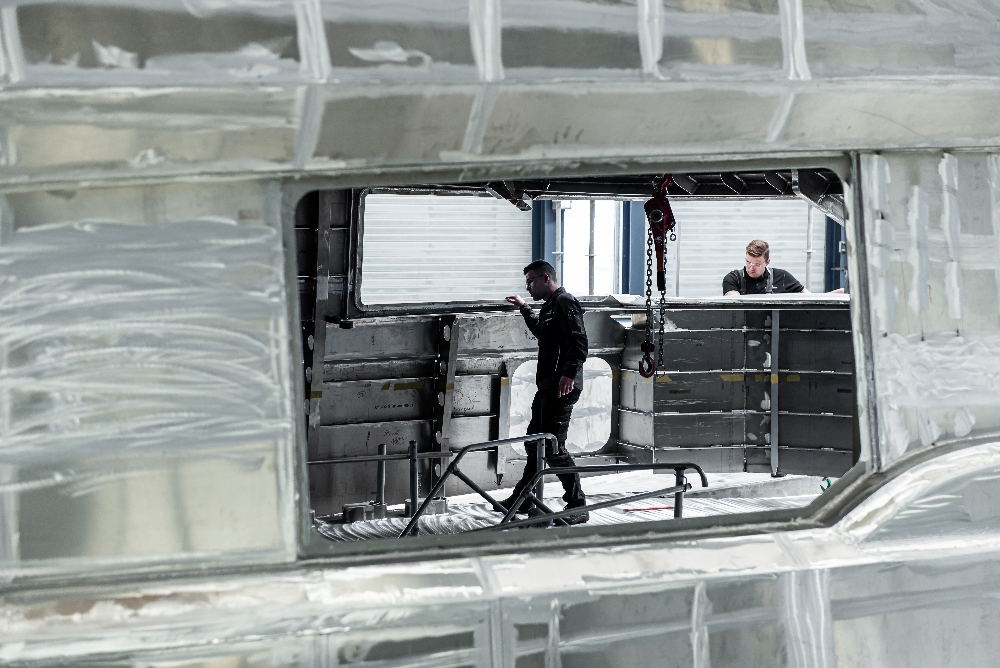 "Royal Huisman has built its reputation by fulfilling the most ambitious and challenging dreams of its clients," commented Royal Huisman CEO Jan Timmerman. "We create yachts of extraordinary individuality, with unrivaled levels of craftmanship and reliability. So it is a privilege to be selected by the owner's team to realize this unique sportfish superyacht. We look forward to our next meeting when we celebrate the launch of the finished product. Project 406 will be another masterpiece of creativity, innovation and expertise. And always, uniquely, an individual Royal Huisman motoryacht."