Innovative and in line with the new dynamics of the shipyard.
The Dufour 470 symbolises the renewal of the brand, in particular with a 4-cabin layout that so far did not exist on the market. She is also innovative through her design and her racy, "powerful" aspect, which it totally embraces.
The Dufour 470 demonstrates the shipyard's determination to always offer innovations while drawing inspiration from Dufour's long history and expertise.

DUFOUR 470-She also symbolises the brand's revival, which has already begun with the Dufour 530, and she benefits from our shipyard's DNA while offering a touch of modernity.
The Dufour 470 integrates all the essential elements of our brand: a cockpit that is entirely closed, telescopic davits, or a large bathing platform. Everything is done for the owner to feel at ease; the engine compartment has also been loaded with innovations.

Instinctive Sailing

As for the interior, it remains true to Dufour's DNA with her large cabin and balanced layout.
This new model, like all the others, is available in three versions: Easy, Ocean or Performance, to meet every sailing requirement.
Whichever version you choose, you will experience the beautiful sensations for which DUFOUR is renowned.
INTERIOR
The interior is faithful to Dufour DNA with its large galley at the front of the saloon.
The versatility of this model lies in the interior layout of the saloon, with the possibility of having a front or longitudinal galley. The living rooms and cabins are well balanced and enjoy lots of natural daylight. In terms of exterior features, the Dufour 470 incorporates all the brand's essentials:
The fully enclosed cockpit, the outdoor galley with plancha and sink
The optional built-in telescopic davits
A huge swim platform with integrated swim ladder.
Circulation in the cockpit is greatly facilitated
A high performance sail plan
This new model stands out thanks to a new shell design that allows to refine the silhouette while keeping impressive interior volumes.
The Dufour 470 has a new refined hull design based on the model of modern racing boats, which allows for greater sailing stability and improved maritime performance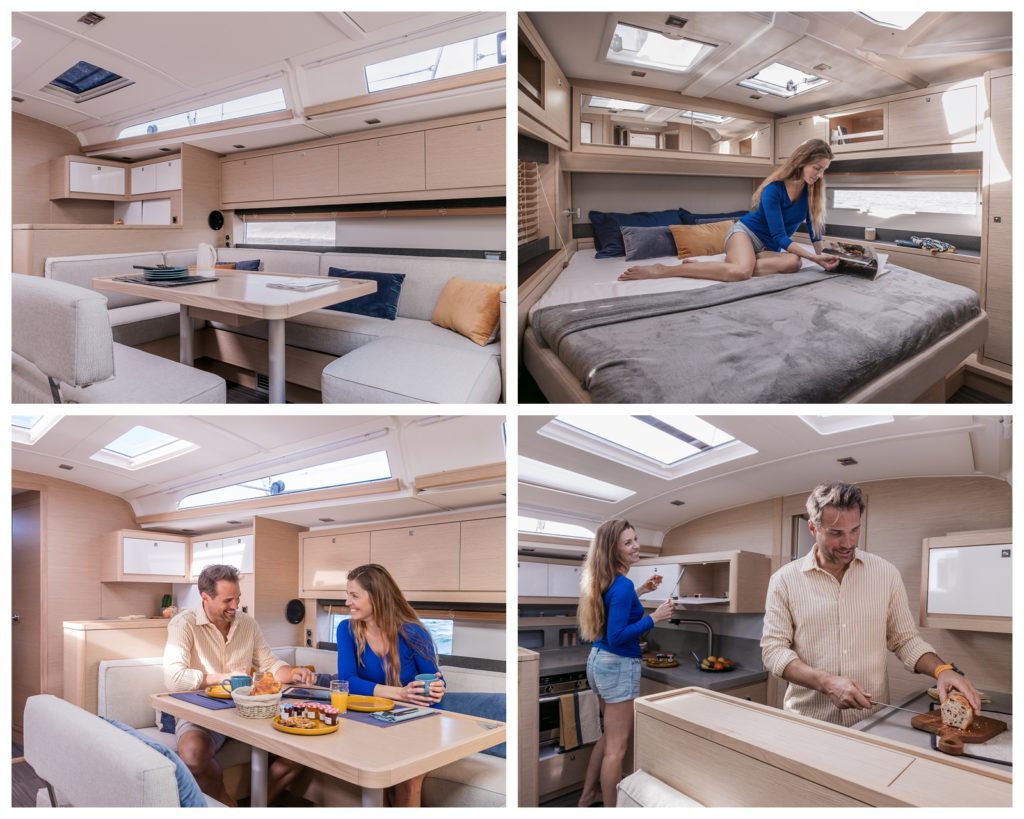 « "The new way we want to look at the design of our boats is perfectly represented by this
model, which, like the Dufour 530 that preceded her in the range, is extremely versatile and
comes with a great capacity for customisation. Working from this principle, we will be able
to build many different versions for many different customers. With six different interiors and
three different deck layouts, that makes 18 different Dufour 470, from the high-performance
version with her deep keel, tall rig and owner's layout, to the 5-cabin charter version with her
helm stations where you can handle the boat on your own.» Romain Motteau Deputy Managing Director
The Dufour 470 is available in three interior layouts with two galley variations. All versions are available with skipper cabin. Dufour offers a new innovative program. The versatility of the deck layouts actually brings three different boats to markets. The multiple versions available will certainly enhance her success both with private owners and charter customers. As for the Performance version, DUFOUR is definitely reconnecting to the racing roots of the shipyard.
The "Easy" version is for owners and
renters looking for simplicity and comfort.
Its refined traditional manoeuvring plan,
with its two winches and its self-tacking
jib is the perfect compromise between
performance, great mobility and comfort.

The "Ocean" version is ideal for owners who
want a more traditional manoeuvring plan
with the sheets positioned on the coamings
and the halyard and mainsail traveler
manoeuvres close to the helm station. This
version with more sail area allows you to
gain in marine performance.

The "Performance" version is ideal for
lovers of great thrills and regatta sailors.
With its 6 high quality winches, her clew
at the bottom of the cockpit and her
"Performance" equipment, this model is
transformed into a pure-racer.
CONSTRUCTION

•Hull: Infused in polyester/glassfiber, sides made from PVC foam core sandwich
•Decoration: Grey
•Gelcoat: NPG gelcoat with first mat impregnated with vynilester resin forming an optionimum barrier against osmosis
•Structure: Hull bottom counter-moulded, bonded, keel stiffeners laminated into the hull.
•Deck: Sandwich with injected PVC foam core
•Ballast: Keel bolts bear on stainless back-plates
•Rudder: Semi-elliptical shape, filled with closed-cell epoxy foam
•Rudder stock: Solid stainless steel
•Rudder quadrant: Double quadrant, Stainless steel cables
•Non-slip deck surface: Non-slip structured deck surface.
DECK

•Handrails: Aluminium handrails on coachroof.
•Folding toe rails in polyester, (teak covered in option)
•Anchor locker: Self-draining with built-in windlass support and anchor chain eyebolt
•Anchor roller
•Bow pulpits: Stainless, opening for easy access and for spinnaker handling
•Stern pulpits: Jackstaff bracket, and opening life-lines with hook.
•Stanchions: With 2 rows of life-lines.
DECK FITTINGS

•Shroud chainplates: Chainplates on hull sides
•Safety chainplates: Safety harness chainplates in cockpit floor and bulkwark
•Miscellaneous chainplates: 2 backstay chainplates
•Midships mooring cleats: 2, aluminium
•Mooring cleat: 4, aluminium
•Rubbing strips: 6 stainless, on hull sheerline
•Fuel deck fillers: 1
•Water deck fillers: 2
•Mainsheet tracks : On coachroof with adjusting car. (Depending version)
•Jib track: for self-tacking sail car
•Genoa tracks: 2 genoa sheet tracks, plunger-adjustable low-lead cars in optionion
•Downhaul
•Through-deck mast
•Deck organizers: 2 deck organizers for halyard, sheet, and reef line returns.
•Halyard winches: 2 halyard winches on coachroof . (Depending version)
•Sheet winches: 2 sheet winches at helm positions. (Depending version)
•Jamcleats: 2 rows of jamcleats port / starboard level with the companionway.
COCKPIT

•Cockpit bench seats: Teak covered.
•Helmsman's seat: Teak covered. (option)
•Lockers: 1 large side locker to Stbd with strut-assisted closing and fixing for padlock, 2 lockers for the lines in the cockpit Helm: Wheel diameter 800 mm
•Helm pedestal: Aluminium
•Compas: 1 on starboard POD
•Instrumentation: PODs on helm positions
•Gas locker: Port aft sections
•Stern door: movable with an electric jack (option)
•BIB locker: Under floor, starboard helm position
•Tender locker: Under port section
•Shore supply: Port helm position
•Bathing ladder: Foldaway stainless bathing ladder
•Cockpit floor: Natural teak floor
•Emergency tiller: A stainless tiller with deck plate for access
RIGGING & SAILS

•Mast: Anodized aluminum with 2 levels of swept spreaders
•Rigging: 9/10 fractional
•Mast stepping: On deck
•Lights: Anchor and steaming lights
•Topping lift: Boom topping lift cleat
•Boom: Anodized aluminum fitted with 2 continuous reefers
•Roller-furler: Foc electric roller furler
•Standing rigging: Continuous in stainless single-strand cable, chrome-plated bronze rigging screws, comprising: forestay, backstay bridle with twin rigging screws, inter and lower shrouds -dyform optionnal-
•Backstay: double
•Running rigging: Running rigging in pre-stretched textile including: main and genoa halyards, boom topping lift, main and genoa sheets, 2 continuous reef lines, leech tensioner, 2 mainsheet car adjustments, furling line, downhaul tackle.
•Mainsail: 2 wide reef strips, with battens and bag
•Foc: Furling genoa with UV-protection
GLAZING & LIGHTING

•Hull: 6 hull ports
•Coachroof, fixed: 6 fixed ports
•Coachroof, opening: 4 opening ports with curtains
•Hatches: 10 deck hatches
•Indirect lighting: Under ceiling and cubby-hole
•Lighting: Numerous spots, garlands and reading lights
•Courtesy light: Low-level lighting around saloon furniture
INTERIOR

•Woodwork: Real wood veneer in oak or teak, solid matching
•Floors: laminate
•Doors: Fitted with twin-bolt anti-vibration locks, cabin doors can be blocked in the open position
•Mattresses: Mattresses are in anallergic fabric
•Cushions: Saloon cushions and cabin mattresses fitted with removable covers
•Head-liner: Grey lined
•3 versions: 3 cabins – 2 heads / 3 cabins + 3 heads / 4 cabins + 4 heads / 4 cabins + 3 heads+pullman
COMPANIONWAY

•Steps: Curved wooden steps
•Companionway hatch: Sliding companionway hatch and door in Plexiglas with stops and lock.
•Engine cover: Hinged wooden engine cover with gas struts.
•Handrails: 2, stainless with leather.
•Wine cellar: Wine cellar beneath floor in companionway
SAIL LOCKER OR SKIPPER CABIN

•Accessibility: T60 deck hatch
FORWARD HEAD

•WC: Manual sea toilet + basin with single-lever mixer tap
•Wash-basin: Corian®' synthetic resin
•Water: Hot and cold water, chrome-plated brass single-lever mixer tap and shower head.
•Discharge: Direct, via an electric pump.
•Mirror: Large mirror
•Grating: HPL teck
•Ventilation: Via deck panel.
•Cupboards: Storage unit
•Other: Separate shower and toilet (Depending version)
FORWARD CABIN

•Berth: 200x180cm approximatively
•Mattress: 10cm thick, foam mattress with washable cover
•Starboard side with a sofa
•Stowage Below berth :
Cubby-hole alongside of hull
2 hanging lockers with shelves
Below berth
2 tidy pockets

AFT HEAD.
•WC: Manual sea toilet.
•Wash-basin: Corian® synthetic resin
•Water: Hot and cold water, chrome-plated brass single-lever mixer tap and shower head.
•Discharge: Direct, via an electric pump.
•Cupboards: 1 high-level 2-door storage unit with mirror
•Mirror: Large mirror
•Grating: HPL teck
•Ventilation: Via deck panel or opening port.
•Other: Separate shower

GALLEY
•Configurations: Front
•Worktop: 'Corian®' synthetic resin with wooden fiddle.
•Sink: Stainless, largebowl with covers, one of which can be used as a chopping board
•Water: Hot and cold pumped water with chrome-plated brass
•single-lever mixer tap.
•Gas cooker: 3-burner gas cooker
•Crockery storage: Dowels to retain crockery when heeling.
•Refrigerators: Stainless steel drawer.
•Waste bin: Sort compartments
SALOON
•Saloon banquettes: U-shaped banquette on starboard
•Central banquette : Fixed central banquette
•2 functions saloon table
•Starboard banquet with 5 doors equipment.
•Table: With fiddles, removable cover with pad for hot dishes.
•
Storage:
•Storage under seats and behind backrests.
•Bookshelf above banquette
•3 cubby-holes with doors on portboard
•Removable fiddles
•Mast foot: Stainless
PORTSIDE AFT CABIN
•Berth: 200x175cm approximatively
•Mattress: 10cm thick, foam mattress with washable cover
•Water tank: Under berths
•Stowage: Hanging locker with shelves Cubby-holes along side of hull.
•Soundproofing: Double bulkhead provides acoustic and thermal insulation from adjoining engine compartment.
•Technical area: Between aft cabins
STARBOARD AFT CABIN
•Mattress: 10cm thick, foam mattress with washable cover
•Fuel tank: Under berths
•Stowage: Hanging lockers with shelves and Cubby-holes
•Access: To the engine and technical associated parts
•Soundproofing: Double bulkhead provides acoustic and thermal insulation from adjoining engine compartment
•Technical area: Between aft cabins
•Other: Separate shower

STANDARD ENGINE

•Engine power: 60 hp
•Transmission: Sail-drive transmission
•Cooling system: Heat exchanger, anti-siphon valve.
•Sea-water strainer: Sea-water strainer
•Fuel tank: Gauge on electrical distribution panel.
•Fuel filter
•Shut-off valve: Emergency fuel shut-off valve.
•Control panel: Engine control panel with hours meter, engine stop, and tachometer.
•Alternator: Alternator with battery isolator.
•Ventilation: Ventilation with 2 natural inlets and electric mechanical extract.
•Bilge: Separate engine bilge.
•Access: Access to the engine from front and both sides.
•Propeller: 3-blade, fixed (std)
•Insulation: Carefully-designed foam acoustic and thermal insulation.

PLUMBING

•Water tanks: 2 polyethylene water tanks with inspection holes and electric gauges
•Electric bilge pumps: With strainers, controlled from electrical distribution panel
•Manual bilge pump: Operated from cockpit
•Hot water: Water-heater via heat-exchanger
•Hot water tank: Pressurized water pump unit
•Shower waste: "Shower waste pumped automatically to the sea."
ELECTRICITY / ELECTRICITE

•Circuit : 12V
•Distribution panel: 12 buttons , 1 display, 2 USB sockets
•Isolator: 1 per set of batteries in the stbd companionway block
MISCELLANEOUS / DIVERS
•Winch handles: 2 winch handles with bin