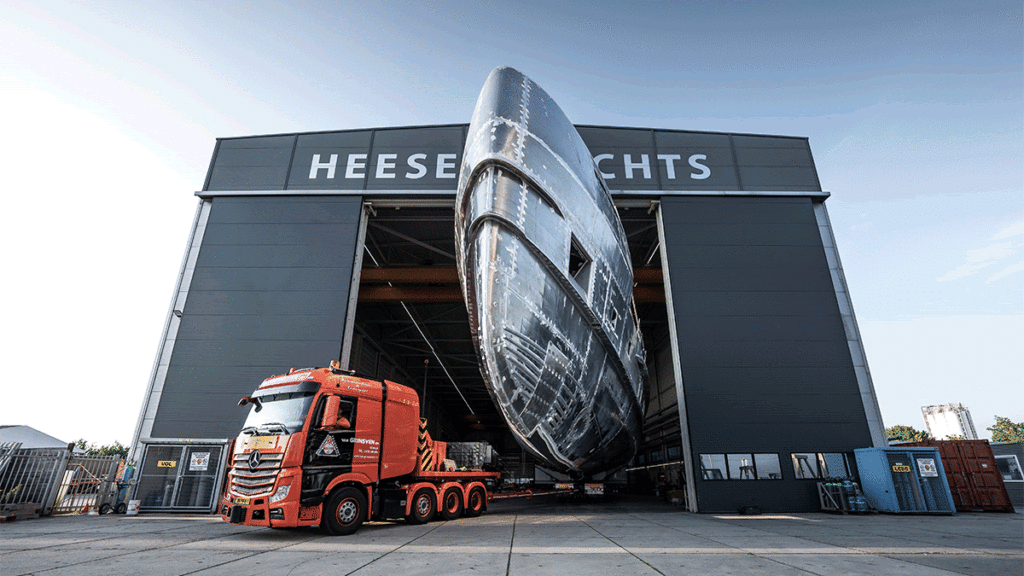 Project Orion-While NASA's new exploration spacecraft, Orion, is designed to carry astronauts to destinations in deep space, including an asteroid and Mars, Heesen's Orion will take the owners and their guests across the seven seas and in perfect silence up to 10 knots, thanks to our innovative hybrid systems.

Heesen has been the first shipyard to combine hybrid propulsion with the ultra-performing Fast Displacement Hull Form (FDHF) on a lightweight aluminium yacht. We carried out this innovative combination on a speculative project for the first time back in 2008. The first in this class, motor yacht Home, received several international accolades. These were attributed not only for the innovative technology that guarantees extreme comfort and safety through a redundant propulsion system but also because of the avant-garde design that perfectly wraps the yacht's technological core. Frank Laupman of Omega Architects, a long-term design partner of our shipyard, was able to innovate but still maintain our true DNA in a design that exudes a strong character thanks to the nearly vertical bow with spray rails and the expansive use of structural glass and open bulwarks. The exterior lines are beautifully complemented by a contemporary interior design penned by acclaimed Italian designer Cristiano Gatto.

Twelve guests are accommodated in six staterooms, with the owners' suite located on the main deck forward. Thanks to floor-to-ceiling windows, the owners can fully enjoy the beauty of the nature surrounding them at sea. Five guest cabins, two twins, two doubles and one VIP at full beam are traditionally found on the lower deck. This layout configuration proves to be a winning setup for both private and charter use.


Project Orion incorporates two major layout innovations based on data from market research and feedback from her foresisters.

By moving the engine room forward, we have created a generous wellness area of about 26 sqm, which grants direct access to the large, fixed swim platform equipped with a practical transformer ladder, ready for the guests to use as soon as the captain drops the anchor. A sauna, a gymnasium and a day head with a shower stall make this area the perfect haven for the body and mind to regenerate before enjoying a dip in the crystal-clear water of bays with shallow depth. Project Orion boasts a shallow draft of just 2.15m that allows her to cruise in the Bahamas and the small creeks in the Mediterranean, granting the owners and their guests the unparalleled experience usually offered by much smaller yachts but in the five-star comfort and luxury of a superyacht!

We have also reorganised the sundeck layout, such as moving the whirlpool forward and surrounding it with large sun pads to provide more privacy for guests when the yacht is docked stern-to in a marina. This change has made the sundeck feel more spacious and versatile. The crew can quickly remove loungers at the back to create a perfect party area. An expansive wet bar, a dining table in the shade under the hard top, and relaxation areas both aft and fore, make the 77 sqm the ideal entertainment space.

Project Orion's beauty also rests on its unparalleled fuel efficiency. Heesen's 50m FHDF series is not only ultra-quiet but also extremely fuel-efficient. At 12 knots, Orion will consume 98 litres per hour, excluding hotel load, while at 10 knots in hybrid mode, consumption falls to a mere 45 litres per hour. This is an outstanding achievement for a 50m yacht displacing 295 tons.
Two MTU 12V 2000 M61 (IMO III) engines of just 600kW each will deliver this exceptional performance. These engines are more compact than those typically fitted on a yacht of this size, which demonstrates the remarkable efficiency of the Fast Displacement Hull Form devised by Van Oossanen Naval Architects, engineered by the shipyard's in-house specialists, and perfectly executed by Heesen's talented welders. A lightweight build and meticulous weight control are essential to achieving these impressive results. Heesen is renowned for its mastery of aluminium yacht construction.

Much like NASA's reach for the stars, Heesen sets its sights on perfection, embracing innovation as the driving force behind the creation of Project Orion to not only redefine luxury yachting but also redefine the very art of maritime living. As Heesen continues to prepare for the launch of Project Orion, it also continues to embrace originality and build on its craftmanship.