Focus Motor Yachts unveils new Power 36 sports cruiser
Amsterdam-based boat builder, Focus Motor Yachts, has added a spectacular new model to its acclaimed sports cruiser line-up.
New Focus Power 36 – The new Focus Power 36 is a stylish, high-performance four-berth motor yacht, built to cater for the mixed recreation of the modern powerboater. Originally due to be unveiled at the Cannes Yacht Show in September 2020, it features a broad range of living and entertaining zones both up top and down below for the ultimate combination of feel-good summer sport and practical long-distance cruising.
A spokesman for the Focus Motor Yachts design team explained the principle behind the new boat:
"We wanted to create a fast, highly sporting cruiser, capable of handling very powerful engines. But we also wanted to factor in far more space and functionality than buyers of a 36-foot sports cruiser would ever expect – and the result is something special. A wonderful combination of open-air living zones, advanced cruising refinement and thrilling 50-knot performance."
A better choice of social zones
Designed by award-winning Naval Architect, Tony Castro, the Power 36 is a serious driving machine with a helm station to match. Positioned right in the centre of the deck, it comes with dual seats, a leather-trimmed dash and a navigation pod to starboard of the Skipper's chair. It also comes with a large canvas sunroof built into the hardtop, so you can bathe the entire cockpit in natural light.
In addition to an impressive six-man dining station, the cockpit also provides an aft Beach area, with a huge two-metre sun lounger, which extends out over the hydraulic swim platform. It's perfect for deploying your toys, prepping for watersports or enjoying the view – and from here, the walkaround side decks bring easy access to the equally spacious sun lounger at the bow.
While the port galley is the natural way to service these outdoor social zones, there are also some dedicated galley facilities down below. Positioned opposite the four-man dinette in the warmth and shelter of the lower deck saloon, it's the perfect solution for cosy weekends away when the nights close in.
A more refined cruise
The Power 36 comes with a reinforced deep-V hull for superior seakeeping in rough weather, alongside soft, compliant handling at speeds of up to 50 knots. That's high-end sport by any standards but it doesn't come at the expense of refinement or luxury.
The engine bay, for instance, uses double-layered insulation with rubber hatch linings for superb sound isolation. It means you can chat with your friends without raising your voice, even in the middle of a rapid transit between destinations.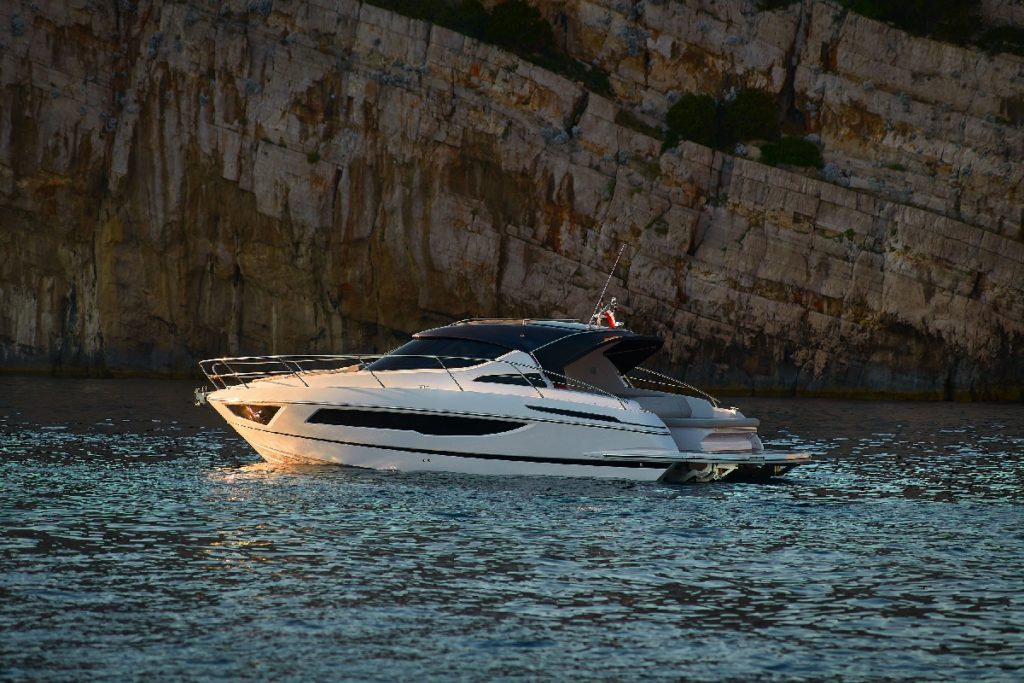 Down below, the refinement of the experience is equally clear. Overhead glass panels and long, raked hull windows flood the saloon with natural light. And whether you're in the master cabin, the guest suite, the starboard bathroom or the central lounge, the use of integrated portlights, Nordic-style woods and premium Majilite trim keeps things bright, fresh and engagingly modern.
Bigger range, bigger performance
With twin 270hp Mercury diesels and a 550-litre fuel tank, the Power 36 delivers a 300-mile cruising range as standard. If you really want to explore its sporting potential, you can also configure it with twin 370hp sterndrives and an extra fuel tank for speeds of 50 knots and even greater passage-making autonomy. But whichever rig you choose, the new Power 36 makes compelling sense. After all, in addition to sleeping up to five people, it delivers multiple socialising zones, flexible layout options, upper and lower galley facilities and eye-opening performance. In fact, the Focus Motor Yachts team is so convinced by the new boat's blend of space, power and refinement that they intend to use it as a flag bearer for the fleet's future development.
The FMY spokesman added:
"We're a small, semi-custom boat building company, so every boat we make is as special to us as it is to the customer. But the new FP36 offers such a rewarding recreational experience that, notwithstanding its potential for customisation, we will now use it as a blueprint for the design identity of Focus Power sports cruisers in the future."  To order your Focus Power 36, call +31 20808 0672 or visit www.focus-motoryachts.com.
Length overall: 11.0m
Beam overall: 3.49m
Dry weight: 6,400 kg
Fuel capacity: 550 litres
Water capacity: 140 litres
People capacity: 10
Cabins: 2 doubles
Berths: 4 + 1 (saloon dinette)
Engine options: Twin 260-370hp diesel sterndrives
Maximum range: 300 Nm+
Maximum speed: 50 knots
Designer: Tony Castro
CE category: B
Price Focus Power 36: from €263,000 + VAT