FERRETTI GROUP AND FORNASETTI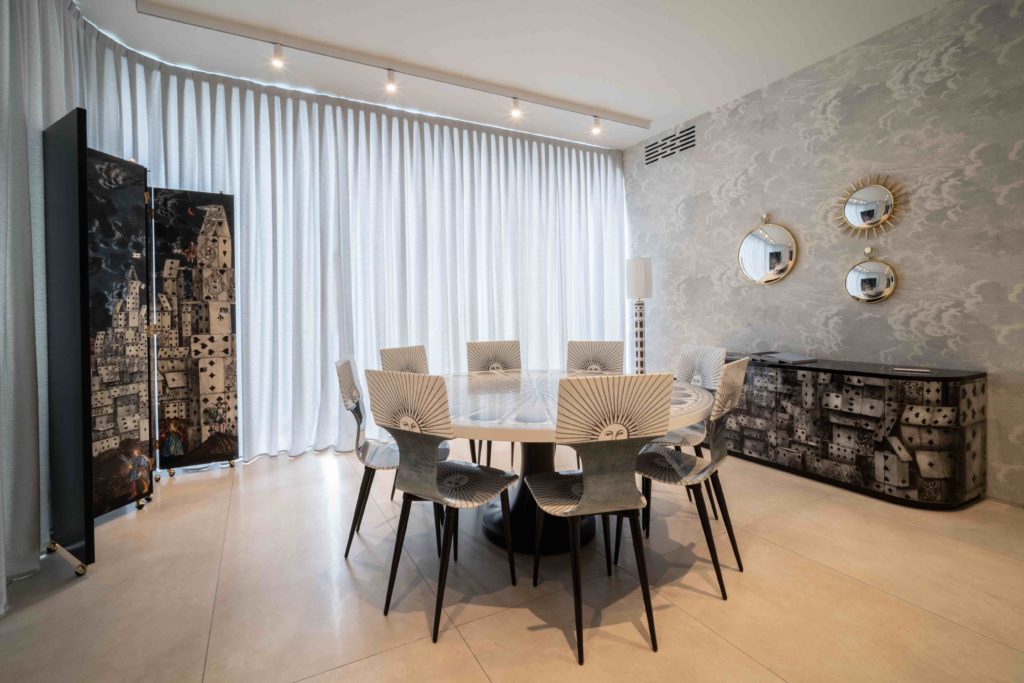 FERRETTI GROUP AND FORNASETTI: DECORATIVE ART ENTERS YACHTING
The world-leading yacht builder and the celebrated design atelier announce a new Made in Italy and madeto-measure partnership involving the Riva and Custom Line brands
Ferretti Group, a world leader in the design, construction and marketing of luxury yachts, has formed a high profile partnership with Fornasetti, the Italian brand internationally renowned for its iconic designs and artisan craftsmanship.

This collaboration between luxury yachting and the unique aesthetic sensibility of Fornasetti stems
from their shared passion for art and design, which is based on the pursuit of excellence and
innovation to create a heritage of timeless refinement and beauty.

One of the values that best defines the identity of both Ferretti Group and Fornasetti is in fact their
Made in Italy culture, which translates into a commitment to offering prestige products that combine
typically Italian elegance, style, creativity, top quality craftsmanship and attention to detail. Another
key value underpinning the collaboration is the concept of made-to-measure, which Custom Line, Riva
and Fornasetti apply in every project they undertake to ensure their customers enjoy a unique
aesthetic experience that reflects their tastes and personality.

Of the seven brands making up Ferretti Group's broad portfolio, Custom Line has for nearly 30 years
been designing and building contemporary superyachts in composite materials or aluminium that are
completely made-to-measure, with custom interiors reflecting the owner's desires, character and
approach to the sea. Advanced technology and ingenious functional solutions go hand in hand with
the brand's inimitable design to create distinctive and stylish yachts that deliver impeccable quality
and attention to detail. As has been the case for over 180 years with the yachts built by Riva, the
Ferretti Group brand known the world over as an emblem of elegance, excellence, beauty and iconic
appeal. Respect for tradition and the ability to build on its invaluable heritage work together with a
strong commitment to innovation and untiring pursuit of excellence to produce masterpieces of naval
art.

This is the world now joined by the fascinating creative forge that is Fornasetti, which set out in 1940 to realise its dream of endowing everyday objects with high cultural value and of using decoration to
send out an artistic message. In doing so, Fornasetti has over the years created its own visual
language, one that is unique in its refined artistic style formed of imagination, humour, nostalgia,
metaphor and allusion, and capable of transforming furniture, accessories and ceramics into original
'conversation pieces'. Everything in this Milan atelier is still exclusively handmade by skilled artisans
in annual limited editions, using a process that ensures each product is a stunning art multiple.
So, Fornasetti's decorative art joins Ferretti Group's luxury yachting universe to create elegant and
original ambiences that will give customers an exclusive and immersive experience. It's here that the design and craft work associated with the Atelier's "thinking with your hands" approach come together
to produce floating works of art.
As a result of this collaboration, the interior design of the private room at Riva's La Spezia shipyard
features Fornasetti furniture and accessories. In this way, a shipyard renowned for excellence in luxury
yacht building becomes a meeting point at the intersection of art, design and navigation.
Riva and Custom Line's partnership with Fornasetti opens a new chapter in the history of Italian
design, and in the coming months will be presenting surprising new projects that promote creativity
and craftsmanship.