All aboard for boot Düsseldorf 2024
Take off and join in diving, surfing and paddling
boot Düsseldorf 2024 -In less than 70 days boot will again head for its home port in Düsseldorf for the 55th time and nearly all manufacturers and dealers will be on board once more! A glance at the just released exhibitor database makes all enthusiasts' hearts race. 16 exhibition halls brimming with yacht, boats, boards, diving equipment and travel destinations will make Düsseldorf the "mecca" of watersports from 20 to 28 January. Alongside the wide and varied ranges displayed by more than 1,500 exhibitors from 60 countries, a whole host of stars from the sector will be featured on the stages.
A tour of the exhibition halls takes us past international global players, manufacturers and retailers.
Powerboats in Halls 1 to 9
Let's start our guided tour in Hall 1. Here, we already meet the Who's Who in powerboating: Bavaria, Bénéteau, Dephia, Elling, Linssen or Sealine will showcase medium-sized powerboats (up to 20 metres) here. For the first time, Schaefer Yachts, a manufacturer from Brazil, is travelling to the event and will be presenting three yachts in Hall 1.
Tenders and outboards from brands such as Bayliner, Boston Whaler, Honda, Karnic Power Boats, Mercury, Quicksilver, Searay, Suzuki, Tohatsu and Yamaha will be the flagship products in Hall 3. In addition, in the new Sportfisher Center will provide tips and information on all aspects of fishing on the water.
Hall 4 has traditionally been the hub of Scandinavian boatbuilders as well as innovative tenders with alternative propulsion. This time, Axopar, Yot, E-sense of blue, Finnmaster, Frydenbo Boats, Linex Boat, Nimbus, Botnia Marin, Quarken Boats, Ruban Bleu, Sargo, Sarl Cobalt, Saxdor, Lekker Boats, Valkama, X Shore, and XO Boats will be featured amongst others.
Superboats is a term specifically coined for boot Düsseldorf and the best examples of this class can be found in Hall 5. Resounding names like Boesch, Pardo, Capelli, De Antonio, Fjord, Frauscher, Fliteboard, Awake, Nautor Swan, Nerea, Rand, Sacs Tecnorib, Seven Seas Yachts, Jeanneau DB, Stratos Yachts, Wellcraft or Windy will make Hall 5 shine in new splendour.
In Hall 6 the luxury yachts up to approx. 33 metres will drop anchor. The names alone get you dreaming: the yachts by Absolute, Azimut, Bluegame, Cranchi, Fairline, Ferretti, Explorer, Pearl, Princess, Sirena, Sunseeker or Wally are absolute eye-catchers and resemble swimming luxury villas.
Latest yacht design, international brokers, exclusive marinas and info counters operated by shipyards that offer 33m+ luxury yachts will set the scene in Hall 7a. Rubbing shoulders here will be Marine della Toscana, Delphis Technologies, Deutsche Yachten, Drettmann, judel/vrolijk, KM Yachtbuilders, Lazzara Yachts, Marina D'Arechi, Marina di Olbia, Marina di Portorotondo, Ocean Independence, Pantaenius, Reckmann, Robbe & Berking, Sevenstar Yacht Transport, Silent Yachts, Spirit of the Ocean, Starclass Yacht Transport, Sunreef, Symphony Marine, Tribale Yachts, the Association of German Yacht and Charter Companies as well as Whisper Power.
Maritime art invites visitors to while away their time
Maritime art and sculptures invite visitors to linger and contemplate in Hall 7. Renowned artists will be exhibiting works related to seafaring here but also decorative objects from the nautical world.
Ribs and power ribs in Hall 9
Fans of those hip ribs and power ribs will find a host of international manufacturers in Hall 9, including 3D Tender, Henshaw Inflatables, Italboats, Lomac Nautica, Northstar, Pischel Bootsbau, Tiger Marine, Wassersportcenter Stockmann, Whaly Boats, Williams Jet Tender, and Z-Nautic Zodiac Bombard, to name but a few.
Technical accessories and "blue innovation dock" in Hall 10 and 11
Those looking for technical accessories for their boats will strike it rich in Hall 10 and 11. Here, the latest engine technology (inboard), everything related to electrical systems for boats, freshwater and black-water systems, heating and air-conditioning, boat-building supplies and maintenance, security and deck equipment will be on show. 40 leading international technology suppliers and engine manufacturers will be on deck in Halls 10 and 11, including Yanmar, Volvo Penta, Huracan Marine, Torqeedo, Kräutler, Dometic and drinkwaard. In addition, the blue innovation dock with its international programme on sustainability in watersports, serves as a key networking platform for industry, policymakers and users in Hall 10.
"love your ocean", "Water Pixel World", maritime shopping and diving equipment in Hall 11
Hall 11 extends an invitation to maritime shoppers. Alongside technical accessories, the focus will also be on fitting out sailors and boating enthusiasts. Cool maritime chic and functional water sportswear can be found at the Marine Store stand with the Marine Pool range or at Steinmetz+Hehl offering Helly Hansen styles. In addition, the "love your ocean" campaign will return to Hall 11 and focus on protecting our oceans in cooperation with the German Ocean Foundation and various NGOs. Returning to Hall 11 will be the Water Pixel World with tips for fascinating underwater photography and filming as well as state-of-the-art photo and film equipment. Hall 11 also houses the "gate" to boot's unique underwater world. Alongside other diving accessory suppliers, Aqua Lung can be found at the transition from Hall 11 to 12.
Diving in all its dimensions – from taster course to free diving – destinations from all over the world
The diving industry is taking off in Halls 11 to 13. The diving tower, pool and stage are at the centrepiece of the Hall, providing fun galore with mermaiding and diving taster courses, "breathless" excitement when freediving as well as fantastic film screenings and informative talks with international stars of the diving community. The global players in diving education such as Mares, Cressi, Aqua Lung, BtS or Padi will be represented as well as exotic and popular destinations worldwide or indoor diving resorts. As well returning to Hall 11 will be the Water Pixel World with tips for fascinating underwater photography and filming as well as state-of-the-art photo and film equipment.
Destination Seaside – fun in, by and on the water
In 2024 diving will also be the dominating theme in the northern sections of Hall 13. Cross-regional participations organised by tourist centres from Egypt, Croatia, Mallorca, the Bay of Lübeck and Turkey will showcase typical national and regional characteristics. Numerous tour operators, firms chartering out sailing yachts, powerboats and house boats such as Kiriacoulis Mediterranean Cruises or Kuhnle Tours, marinas and regional tourism experts will convey a real holiday feeling. The stage hosting fascinating lectures on seaside holidays complements the Destination Seaside in Hall 13 to form a unique travel marketplace for Germany. Though investors seeking to invest in boats are also welcome here. Those interested in so-called Yacht Ownership Programmes will find rewarding custom offers with the yacht management companies in Halls 13/14.
World of Paddling and a gamut of services
Hall 14 will also shine with a special experience: the World of Paddling invites visitors to a canoe tour on an indoor river against the backdrop of Canadian wilderness. This is a great place for families to relax after strolling around the trade fair. Alongside this, there will be plenty of inspiration on stage for your next paddling tour. Hall 14, however, has also traditionally focused on service providers at boot. Here, a wide variety of associations and institutions are available with help and advice – ranging from the German Ministry of Transport, ADAC (General German Automobile Club), The Federal Maritime Authority, the German Weather Service, the German Lifesaving Association, the German Society for the Rescue of Shipwrecked Persons, the Directorate-General for Waterways and Shipping and the NRW Waterway Police to the German Red Cross. A special treat for all classic boat lovers is the Classic Forum, which has spread a touch of boating history for 20 years. Here, many an old treasure has already been auctioned to "aficionados".
Ride a gentle breeze into the sailing halls 15 and 16
Then it's off to Halls 15 and 16 to explore the world of sailing at boot. Here, visitors always sense a gentle breeze blowing around their ears when the big stars report of their adventures sailing the seven seas or young sailors take their first sailing trip on the pool of boot's Sailing School. An all-new addition is the Multihull Village. This provides especially newcomers and returners with a foretaste of comfy multi-hull sailing and power catamarans. Among the manufacturers in Halls 15 and 16 we also find the "cream of the crop" in this industry such as Hanse Yachts, X Yachts, Bavaria, Bénéteau, Bente, Contest, Dufour, Elan, Grand Soleil, Gunboat, Hallberg Rassy, Jeanneau, Nautor Swan, Oyster, Saffier and Solaris.
Always downwind – trend sports in Hall 17
Surfers are trendy, cool and always downwind – thanks to the tailwinds from the wind machines in Hall 17. The Actionpool has become an established magnet for this trend sport. Here both professional and amateur sportspeople can let off steam over a distance of 60 m. Be it kiting, wing and foil surfing or simply SUPing – here, anything is possible and makes dreams of next summer come true in ice-cold January. Many manufacturers and dealers such as Starboard, Haiku or Gunsails invite visitors to do their shopping while providing outstanding advice at the same time.
This tour of boot Düsseldorf 2024 serves to set the scene and provide a first excursion into the coming watersports season.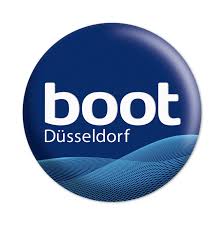 Online tickets for boot Düsseldorf are available at € 21.00 and € 19.00 for boot.club, caravan.club and ADAC members. Admission tickets purchased at the ticket offices on site are € 29.00.
The world's largest yacht and watersports trade fair
Registering just under 237,000 visitors from over 60 countries and more than 1,500 exhibitors from 68 nations occupying 220,000 square metres in Halls 1 to 17, boot Düsseldorf from 20 to 28 January 2024 will be the world's biggest yacht and watersports trade fair. Both yachtspeople and powerboaters will find a wide variety of boats, dinghies, super boats and luxury yachts. The popular sports diving, surfing, kitesurfing, SUP, skim boarding or canoeing will be presented in all their facets and with the corresponding equipment at boot. Attractive stage activities featuring the stars of the scene, current trends and a high-calibre mix of workshops and join-in activities for both amateur sportspeople and experts, all make this trade fair unique the world over. But marine protection and innovative, sustainable technologies will also be in focus at boot 2024. In cooperation with the European Boating Industry (EBI) the blue innovation dock will provide a unique dialogue format with political, business, technological and media expertise in Hall 10. Furthermore, two beacons for the protection of our oceans will be "on board" again. The prestigious "ocean tribute" Award presented in partnership by the Prince Albert II of Monaco Foundation and the German Ocean Foundation as well as the "love your ocean" campaign with its stand in Hall 11.