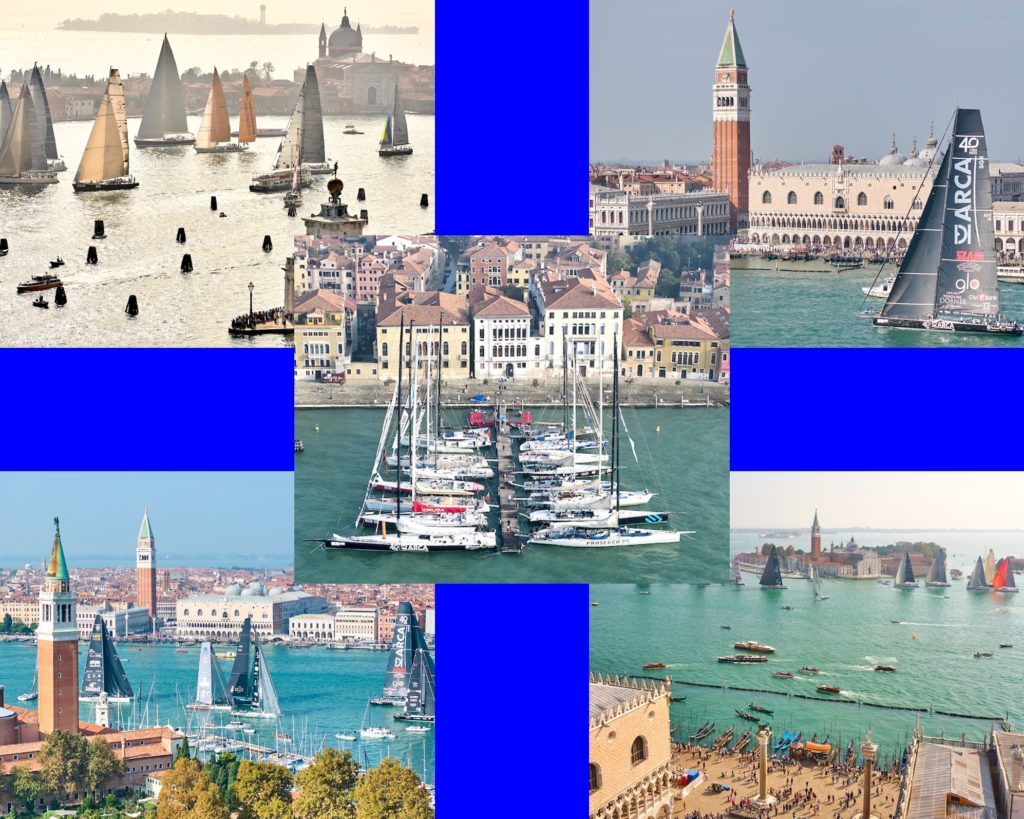 Arca SGR – Ca' Sagredo wins the X Venice Hospitality Challenge
Arca SGR – Ca' Sagredo helmed by Furio Benussi takes the top step of the podium, winning the Overall victory in the tenth edition of the Venice Hospitality Challenge, repeating the recent success at the Barcolana. The regatta, which took place as per tradition on the city route of the Serenissima which goes from the Rive di San Marco to the Giudecca Canal, set a new record with eighteen maxi yachts participating. The emotions were not lacking from the first moments after the start: Arca SGR – Ca' Sagredo, Prosecco DOC Shockwave 3 – Hotel Excelsior and Way of Life – The Gritti Palace had to serve a penalty for an early start with Adriatic Europa – Hotel Danieli which did not was able to exploit the advantage by ending up aground a few meters from the island of San Giorgio. Already at the first mark Arca SGR recovered the accumulated disadvantage by taking the lead and thus controlling its opponents until the finish line. Venice Hospitality Challenge – Final ranking
Maxi A Regatta                              Skipper
1 Arca SGR – Ca' Sagredo Hotel Furio Benussi
2 Way of Life – The Gritti Palace Vincec Gaspar
3 Prosecco DOC Shockwave 3 – Hotel Excelsior Mitja Kosmina
Maxi B Regatta
1 Pegaso – Alajmo Ristorante Quadri Roberto Zambelli
2 Clean Sport One – Violino d'Oro Jure Orel
3- Anywave – The St. Regis Venice                             Alberto Leghissa
Maxi Cruise
1 Idrusa – Palazzina Paolo Montefusco
2 Kiwi – Ca' di Dio VRetreats/LILT Paolo Pesaresi
3 Anemos II – JW Marriott                                         Gughi Danelon
The Venice Tourism Councilor Simone Venturini, the president of the FIV Francesco Ettorre and Benoît de Froidmont president of the IMA (International Maxi Yacht Association) joined Mirko Sguario on stage to present the winners with the Doge's Hat which was created for this tenth edition from the Murano glassworks Studio Berengo.  
"It is with a particular spirit of satisfaction that this year I thank all those who contributed to bringing great sailing to the heart of Venice, making the Venice Hospitality Challenge a unique event in the world. – declared Mirko Sguario, president of Yacht Venezia and patron of the regatta – Even the success of the "Venice Hospitality Challenge: the Tenth Anniversary" exhibition attests that witnessing a major sporting event linked to seafaring and hospitality can revive those emotions that only the extraordinary setting of Venice can make it unforgettable.For the first time the public was able to admire the moored boats up close thanks to a floating pier over 75 meters long positioned in the Giudecca Canal at the height of the Palazzo delle Zattere. The pier was named in memory of the builder Renzo Rossi, considered among the leading experts in the field of maintenance and protection works of the lagoon.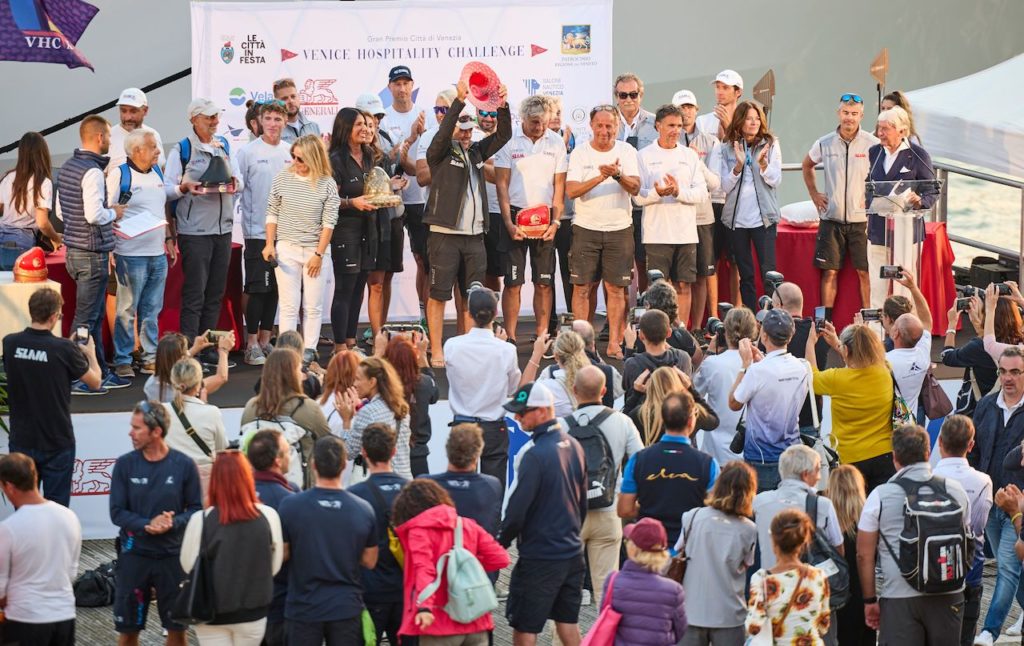 "The mooring of the boats in the city was a surprise much appreciated by the Venetians and guests of the city and it is certainly a project on which it is possible to work also in the future." Added Fabrizio D'Oria, Operations Director of Vela Spa. Tourism councilor Simone Venturini underlined the importance of the regatta for Venice: "For the ten years of the Venice Hospitality Challenge there could not have been a more beautiful celebration: a great celebration of the sea, the best yachts and the best Venetian hospitality were the protagonists of this day." We thank the following for their patronage and support: the Municipality of Venice, the Veneto Region, the Port System Authority of the Northern Adriatic Sea, the #ItalianSailingFederation.