"Sea Women of Melanesia" won "ocean tribute" Award 2020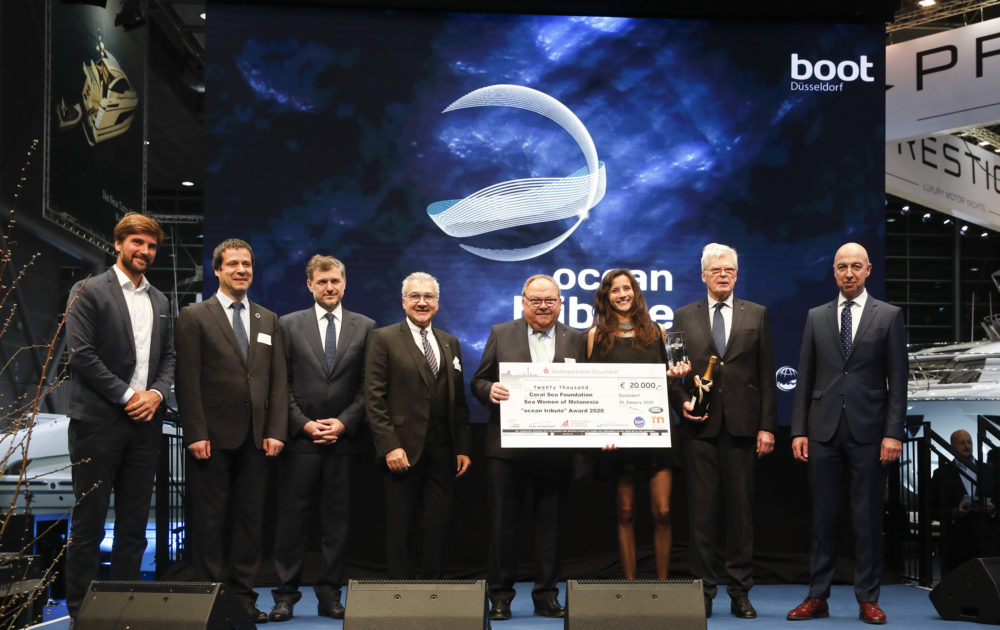 "Sea Women of Melanesia" won the third "ocean tribute" Award 2020. This award was celebrated with an (ocean) roaring party on the evening of 20 January at the blue motion night in Hall 6. The "Sea Women of Melanesia" were delighted to win this year's award, which is endowed with 20,000 euros – provided by the Prince Albert II Foundation and boot Düsseldorf.
In this project, young, committed Melanesian women from the states of Papua New Guinea, Solomon Islands, Fiji and Vanuatu are specially trained to establish marine protection zones around the unique, largest contiguous coral reefs in the world. An international team of marine biologists is on-site and trains the girls and women in diving and surveying techniques to preserve and protect the corals. Their stirring motto is "Too precious to lose".
Laudator Boris Herrmann, himself a committed marine conservationist and last year's prize winner, quoted the famous circumnavigator Tracy Edwards in his speech on the winners: "Strengthen a girl and you strengthen the world." And pointed out the special challenges for the people of Melanesia. These are the survival of the coral reefs, which are threatened with extinction due to excessive CO2 emissions and the resulting acidification of the oceans.
The award winners want to help the population to maintain and care for their own habitat with hardware, software and education. In this way, they can help to defend the resources for local fishing as a source of food for the population. The project and its initiators also promote the sustainable development of tourism. All these benefits the people and their home waters in Melanesia.
The skipper explained: "The prize associated with the funding of 20,000 euros could hardly be better used. The initiators announced in advance that they will train 20 more Melanesian women as reef caretakers for their respective communities. This will now be possible! I can only take my hat off to the strong ideas and the successful and exemplary work of the prize winners".
The award was presented to Marine Conservationist Lucie Guirkinger from the "Coral Sea Foundation" for the "Sea Women of Melanesia" by Boris Herrmann, the representative of the Prince Albert Foundation in Germany Dr. Bernd Kunth and the CEO of the fair Werner Matthias Dornscheidt. For the final photo met (f.l.t.r.): Boris Herrmann, Frank Schweikert, German Ocean Foundation, S.E. Frédéric Labarrère, Ambassador of the Principality of Monaco, Petros Michelidakis, Director boot Düsseldorf, Werner Matthias Dornscheidt, Lucie Guirkinger, Dr. Bernd Kunth, Peter Walpurgis, "ocean tribute" Sponsor Seabob.