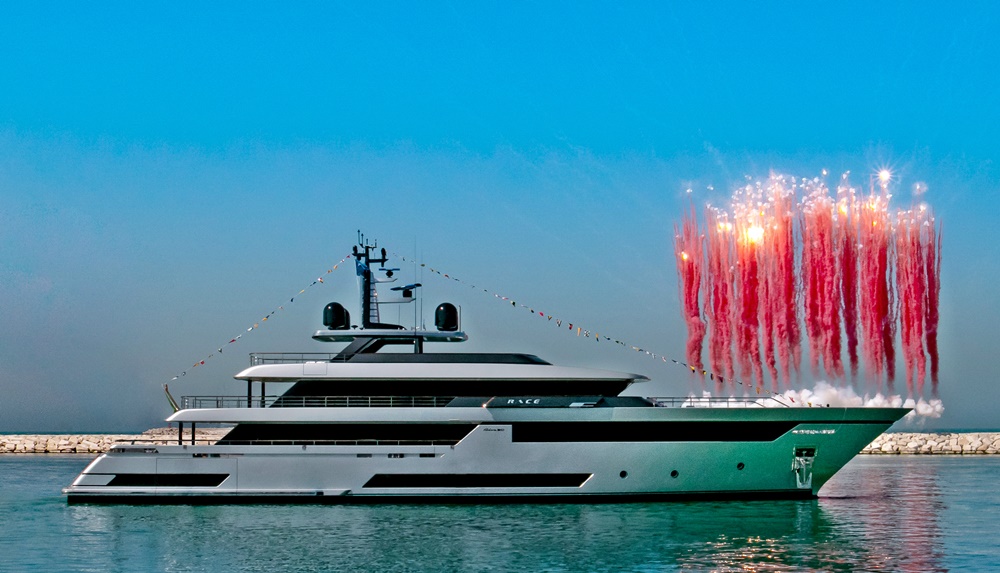 FIRST SUPERYACHT RIVA SO MT M/Y "RACE" LAUNCHED: THE LEGEND ENTERS ANEW  DIMENSION
THE  NEW  FLAGSHIP TOOK  TO THE WATER IN AN  EMOTIONAL PRIVATE CEREMONY HELD  IN THE RIVA SUPERYACHTS  DIVISION SHIPYARD  IN ANCONA
Ancona, March 23,2079- A 50-meter-long  dream is now a yacht of boundless beauty. Named "Race" by her owner, she was the star of a theatrical launch at the Riva Superyachts Division shipya rd in Ancona.
Riva 50 mt realises the dream of Carlo Riva who, in the 1960s and 70s, driven by his brilliantly ambitious desire to exceed every limit created the famous Caravelle and Atlantic series steel motor yachts of which Riva 50 mt is the worthy heir, with her peerless standards of aesthetics, style and innovation.
At 50 meters  long  and  with  a  maximum beam  of  9 meters, she offers an outstanding expe rience  at sea, featuring  comfort elegance, care over detail and exceptional  yacht building expertise. These are va lues that have  made  R iva a legend  in  the  international  yachting  world.  The  masterpiece  from  Riva  Superyachts Division is a  cutting-edge work  of  naval engineering, bringing together  the  most  advanced  technological solutions  and  unmi stakable  styling to  satisfy the  refined  tastes and  demanding expectations  of  her Ita lian owner.
Majestic in her elega nce, Riva 50 mt is a product  of the partnership between Officina ltaliana Design, the firm headed by Mauro Micheli and Sergio Beretta that designs the entire Riva range on an exclusive basis and the engineering team selected to design  the new Riva super  yachts with  the Ferretti  Group  Product Strategy Committee.
"Riva 50 mt is a huge leap forvvard for Riva and for the world of yachting, in addition to being an amazing sight on the water. This yacht and her unique magnificence, amplified by her impressive size, also represents a remarkable achievement for the Riva Superyachts Division, which has built the biggest Riva ever made while meeting and enhancing the brand's signature stylistic excellence. From the tiniest details to the breathtaking design, this 50-meter yacht is   a  treasure of  beauty, illuminated  by a  legendary I77-year  history and accompanied by an  ultra­ contemporary vision of yacht building. The production know-how that people admire in a work of this value is also the best possible example of the 'Made In Italy' manifes to that is the signature of each of our brands," commented Ferretti Group CEO Alberto Galassi.