OVERMARINE GROUP CONTINUES ITS NETWORK EXPANSION NEW DEALERSHIP – BALEARICS ISLANDS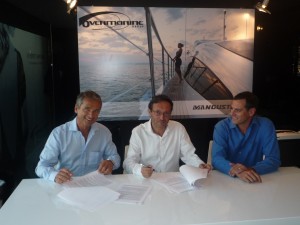 Viareggio – November 29th 2011 – As promised, the Overmarine Group network is expanding reaching also the Balearic Islands allowing the Group to grant a presence in the locations most visited by the owners.
Michl Marine is the new Overmarine Group sales representative that will promote and support the Group in the promotion of the Mangusta Maxi Open yachts in the Balearic Islands.
Michl Marine Ibiza s.l. was founded 1997 by Mr. Manfred Michl starting with the maintenance service of boats based all year round in Ibiza. With the time, the company got represented  several name of shipyards until succeeding in representing Overmarine Group|Mangusta.
After 14 years of experience in Ibiza, Michl Marine Ibiza s.l. is able to provide an excellent and quick 7 day service to existing and new clients. The office is located in the new luxury Harbor of Ibiza: Marina Ibiza, offering excellent berth facilities and concierge services being  the most exclusive location of the Balearic islands.