BAVARIA presents second VISION line model
BAVARIA presents second VISION line model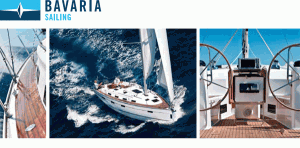 Following the successful premiere of the VISION 46, BAVARIA presents the latest addition to the new VISION line. The new VISION 42, which benefits from the same features and innovations as its big sister, will be premiered at the Festival de la Plaisance de Cannes in September. BAVARIA is pleased to be able to release technical details and price information for the 42-foot yacht in advance.
The VISION 42 stands out in particular thanks to her unique, innovative styling and sleek exterior design. On deck there are a range of ergonomic comfort features for both skipper and crew: control, docking and winch mechanisms are in reach for easy manoeuvring. Below deck, a generous lounge area affords additional comfort. Two comfortable cabins and intelligent interior organisation make the Vision 42 a luxury cruiser yacht. It has high-quality, functional furnishings throughout and can sleep up to six persons.
Innovative features such as the new BAVARIA Dock and Trim Control, which was designed especially for BAVARIA, ensure easy handling and great performance – whether sailing alone or with a larger crew.
The VISION line from BAVARIA is a new luxury sailing yacht collection. It is the unique result of a Europe-wide series of workshops which involved end users in its development right from the outset. The VISION line was designed based on owners' conceptions of their own dream yacht.
The VISION 42 is available at an entry level price of 134,900 euros ex shipyard. The VISION 42 will be premiered at the Festival de la Plaisance de Cannes 2012 from 11th to 16th September.