OFFICINE PANERAI ANNOUNCES THE RESULTS OF THE 2012 ANTIGUA CLASSIC YACHT REGATTA
Regatta winner Lone Fox is awarded a coveted Special Edition Panerai watch
Duran Duran reunited aboard Eilean for the 30th anniversary of their iconic Rio video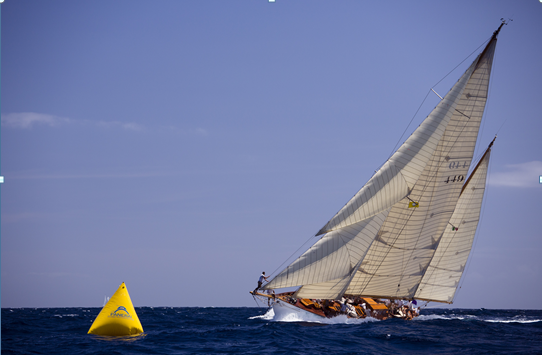 ANTIGUA, APRIL 2012 – Officine Panerai is proud to announce the results of the 25th annual Antigua Classic Yacht Regatta, the first stage of the Panerai Classic Yachts Challenge 2012. Throughout the five days, 56 sailing yachts took part to a series of races and events involving boat owners, crewmembers, sailing lovers and journalists who traveled to Antigua from every corner of the world to experience the most important gathering of classic boats in the Caribbean. The prestigious event culminated with Lone Fox being awarded with a Special Edition Panerai watch as the overall winner of the Antigua Classic Yacht Regatta 2012.
This year, surrounded by the beautiful scenery of the English Harbour, all eyes were undoubtedly on Eilean, the Bermudian ketch created in 1936 by the Scottish Yacht Designer William Fife III. A multimedia exhibition set up inside the charming, historical Georgian shipyard Nelson's Dockyard, presented the history of Eilean, from her inception, to her discovery in ruin five years ago by Panerai CEO Angelo Bonati, to this year's triumphant return home to Antigua. The exhibit showcased not only the staggering talent of the craftsmen who were able to restore Eilean to her original glory, but the beautiful features of the 1930s Fife.
Members of the rock band Duran Duran, who shot the video for "Rio" aboard Eilean exactly 30 years ago on these same shores, also took part in the festivities in celebration of Eilean's return. Simon Le Bon, a passionate sailor himself, along with Nick Rhodes and Roger Taylor were thrilled to accept Panerai's invitation to return to Antigua and sail again on Eilean.
Amidst perfect sailing conditions and unwavering dedication from the crews, the yachts put on an unforgettable show on the English Harbour. Winner of the Panerai Prize for First Overall Classic Class was Saphaedra. Winning 1st Place in the Spirit of Tradition Class A was Rebecca. The winner of Vintage Class A was Mariella, helmed by Carlo Falcone with Dennis Conner. Eilean, helmed by Andrew Cully and, for several races, Simon Le Bon, won the Woodstock Restoration Trophy in Vintage Class A for Best Restored Yacht.Dorade won First Place in Vintage Class B, and also was the Overall Winner for the Concours d'Elegance, with Eilean receiving a special mention from the jury.
As the Antigua Classic Yacht Regatta draws to a close, Eilean will once again cross the Atlantic Ocean to join the Thames Diamond Jubilee Pageant in London on June 3rd. The outstanding parade, comprised of 1,000 boats sailing on the Thames River, is a part of Queen Elizabeth II's Diamond Jubilee celebration, celebrating her 60 years on the throne.
The next stage of the Panerai Classic Yachts Challenge season will be in Antibes, in the French Riviera, where the Voiles d'Antibeswill kick off the Mediterranean circuit of the Panerai Classic Yachts Challenge 2012 on May 30th.