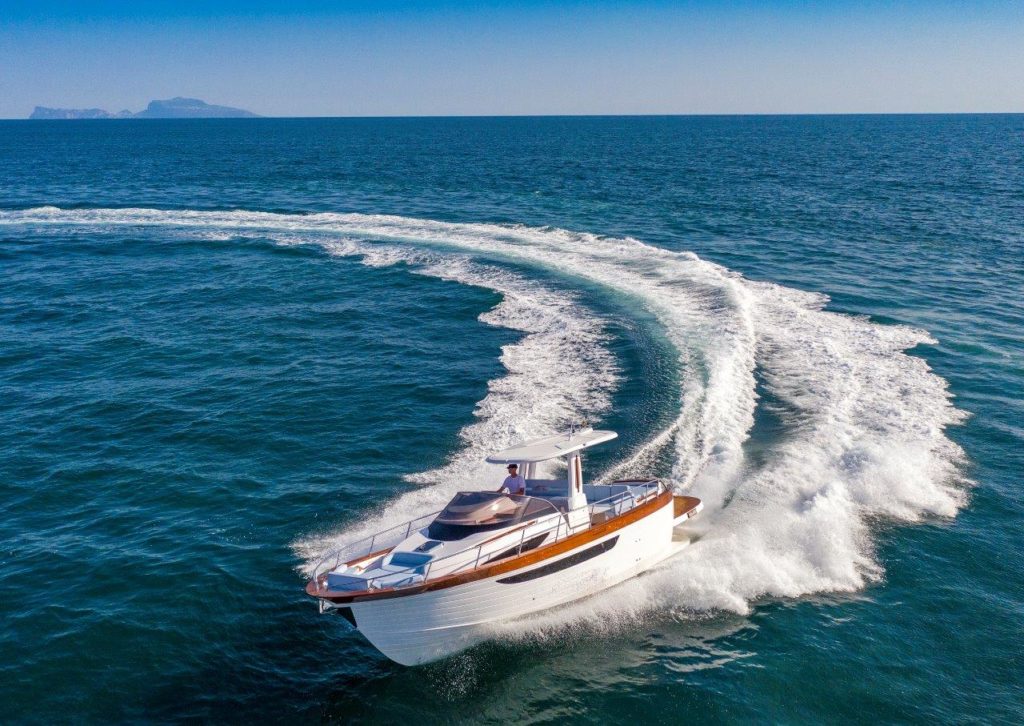 Libeccio 11 Walkaround: A NEW concePt gozzo – An ambitious project by Valerio Rivellini combining sportiness and elegance, the Libeccio 11 Walkaround is an innovative gozzo that will appeal to young owners seeking an optimum compromise between sophistication and performance. Designed to meet the needs of those wanting to get the most out of the forward area, and not only when moored, this 11-metre model (breadth 3.50 m) enables the forward spaces to be used even at 30 knots. In the bows in fact, there are two sofas (facing one another) that can be turned into a comfortable sunpad or, thanks to a fold-away table, a dining area ideal for drinks.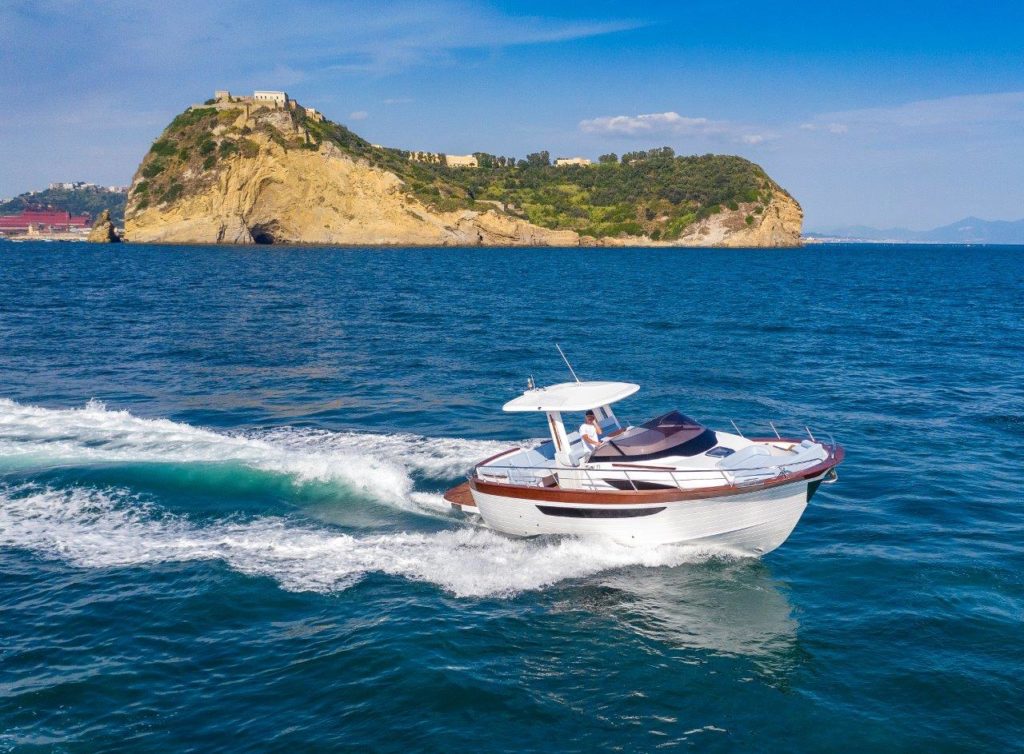 Astern, there is a 5-seater sofa whose backrest can be lowered to form a sunpad, while the cockpit offers perfect freedom of movement.
It's characteristics like these that change the very concept of gozzo here, making it also appeal to more evolved boatowners who love elegance but also demand liveability and sporty performance.
The Libeccio 11 Walkaround is most importantly the world's only gozzo to have a stern garage for a tender and toys. Shade is provided by the breathable mesh of a rigid canopy that's not bolted but supported by just two lateral arms.
The interiors include two cabins, a galley and a bathroom with a shower and matte-white lacquered fittings. Sophistication is also seen in the design of the exquisite (and customizable) kitchen tops and the hanging steps for more air, space and light in the stern cabin.
Classic gozzo style is evoked in the external mahogany and teak details and in the blue and white bands and wooden battening in the interiors.
"The 11 Walkaround is an ambitious project," explains the boat's designer Valerio Rivellini, "that goes beyond the classic concept of the gozzo to address a wider customer base in terms of age and tastes, people attracted by a combination of visible sportiness and the understated refinement of classic style. The walkaround concept is also key: we've created exceptional exterior liveability by sacrificing certain internal parts (absolutely minimal, given that there are two cabins while bigger boats only have one)".
Libeccio 11 Walkaround – technical characteristics
Length overall 11 m
Hull length 9.4 m
Breadth 3.5 m
Weight 7,000 kg
Engines 2×250 hp
Top speed 30 kn
EC design category Category B
Capacity (persons) 12
Cabins 2