ORC "Ocean Rider Catamarans"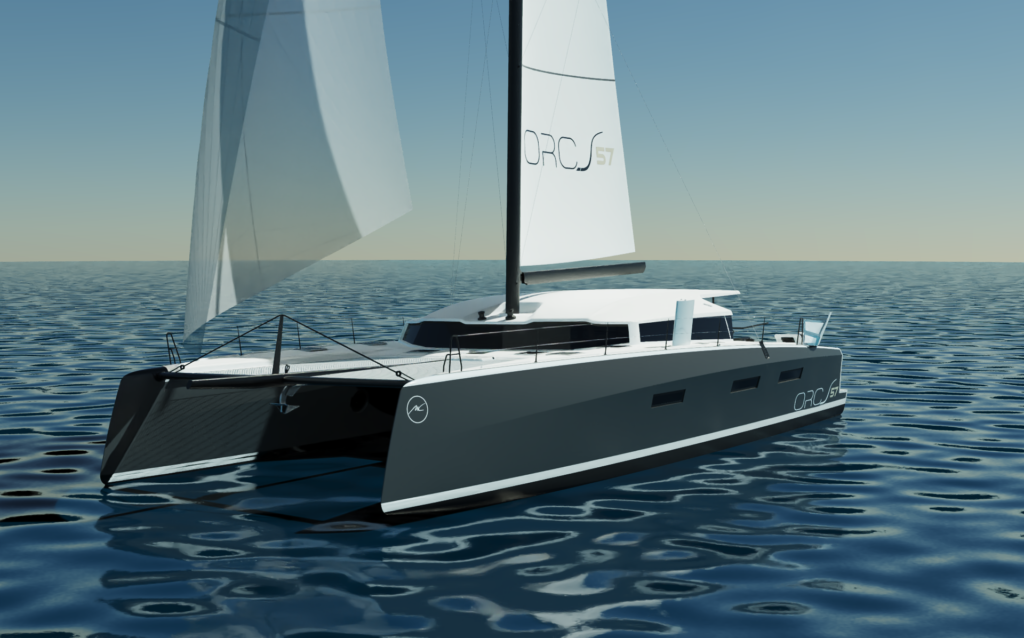 Marsaudon Composites have been building and selling a range of high performance catamarans since 2014 under the name of TS42 (42 feet, 18 units sailing) and TS5 (50 feet, 10 units sailing), designed by Christophe Barreau.
This range gained a very solid reputation over the year both as cruising sailing catamarans and as racer catamarans.
Indeed they all share key characteristics:
Lines unlike any other, that immediately strike your eyes, give a feeling of lightness and power
Lightweight (around 7t for the 42 feet and around 9.5t for the 50 feet), and a solid, stiff build that gives unmatched performance : boat speed always very close to wind speed
Easy to steer and sail, thanks to a serious work on the design and ergonomics, but also thanks to the use of a tiller at the helm station
Provide unique sailing sensation, with instant acceleration, powerful sliding sensation
Well balanced design between hull, rigging and deck plan ergonomics that lead to easily sail fast while remaining in safe situation
All the comfort you need for long term cruising across the ocean
A pure interior style where you'll find what is necessary and only what is necessary
As the reputation of those boats grows outside of France and Europe, it is now for us key to communicate about them under a brand that is:
Understandable internationnaly
Better match our DNA
Better match who are their owners
Our owners are seasoned sailors, looking for true sailing sensation, fast and versatile boat, comfort and safety. They come either from monohull and look for higher performance, or from slower multihull and look for faster sailing without sacrificing comfort and living space.
They sail a lot (several 1000 miles /year).
Some are racers, but the vast majority are sailors looking to cross the oceans fast while taking pleasure.
So what is this brand ? You might want to know, now ?
From now on, Marsaudon Composites will commercialise its catamarans under the name: Ocean Rider Catamarans ; ORC for short.
Why ORC ?
"Ocean" because they all cross the oceans, toping several thousand miles every year, and spending little time at quay
"Rider" because of the sensation they provide
ORC as a reference to the storm sail and obviously to offshore racing
Besides we decided to adopt the tiller as the distinctive symbol of the brand: all of our catamarans is equipped with a tiller as standard, hence providing a unique connection with the boat, a straightforward feel of the sailing experience and a unique control.
Last, as the current owners say about them: they are "True sailing machines". And we commit to respect and fulfill this promise ! It's a strong statement.