Helsinki Boat-Afloat Show 2020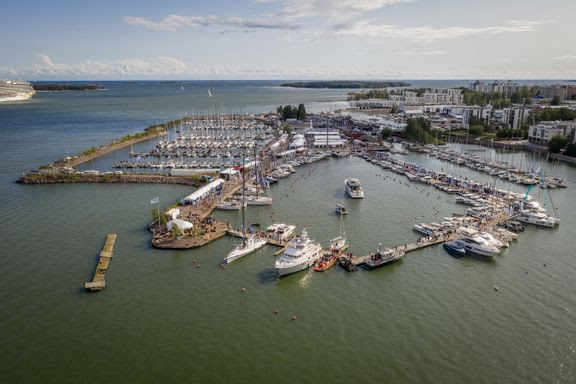 Helsinki Boat-Afloat Show 2020 – Summer boating season culminates in Lauttasaari, 13-16 August
Helsinki Boat-Afloat Show 2020 – Boating is more popular than ever. The summer boating season culminates at the Helsinki Boat-Afloat Show, which once again offers four days of boating excitement for the entire family.
The Helsinki Boat-Afloat Show 2020 opens on Thursday 13 August in Lauttasaari and marks the culmination of what has been an extremely active summer boating season. Although the corona crisis has necessitated special arrangements this year, the large outdoor venue covering over two hectares makes it possible to maintain safe distances between visitors.
The new piers and onshore stands will present over 250 boats, from dinghies to yachts, including new models for the next boating season and product launches. The large exhibition area also presents a wide range of boating accessories, supplies, services and water sports equipment.
First look at new motorboats for the 2021 season and unique opportunity to test boats on the water
As in previous years, the Helsinki Boat-Afloat Show will offer the first chance to see next season's new boats. This year's unveilings include the Flipper 900 DC, Quicksilver Activ 675 Weekend, Saxdor 200 Sport, Silver Shark CCx, UMS Tuna 805 Cabin, Vboats Voyager 700 Cabin Open Bow, Vboats Voyager 800 Cabin and XO 260 T-top.
New models for the current 2020 season are being offered by brands including Alucat, AMT, Aquador, Axopar, Faster, Finnmaster, Jeanneau, Nimbus, Nord Star, Pioner, Silver, Terhi and XO.
The growing popularity of electric boats can also be seen at this year's Helsinki Boat-Afloat Show. Visitors can see the luxury Q30, the more affordable EB models, EB SunnyCat catamarans, EB-Fisher angling boats and Candela electric foiling boats.
On Friday 14 August starting from 4pm, visitors will have a unique chance to test boats on the water. The connecting pier will be opened to allow visitors the chance to test the boats on display in real conditions. Visitors can book test drives with the exhibitors.
Sailing paradise
The Helsinki Boat-Afloat Show is also the most important show of the year for sailing boats, allowing visitors to view them in their element and ready to sail – complete with masts, sails and rigging. This year's show will offer sailing enthusiasts more than for many years, with around a dozen models on display and a wide range of large cruisers as well.
"Sailing enthusiasts have been taken into consideration also in the programme, which includes Finnish sailors Tapio Lehtinen and Ari Huusela, as well as Ocean Ladies and Noora and Katariina from Blondit Purjehtii telling about how they got started with their sailing hobbies," says Jarkko Pajusalo, CEO of Finnboat, organiser of the Helsinki Boat-Afloat Show.
Fans of Finnish cruising yachts will be excited by the sleek and fast double-salon Scandi 42. Built in Ostrobothnia, the yacht has been designed for both competitive sailing and cruising. Scandi Yachts was founded in Uusikaarlepyy in 1979 and has established a reputation as a maker of high-quality one-off boats and as an esteemed subcontractor. The latest Scandi 42 has been designed by Ulf Rögeberg from Denmark.
X-Yachts is bringing two boats from its performance cruiser line, the X40: and X 43. Beneteau importer Ajola Yachts in turn is showing off the stylish small Oceanis 30.1 cruising yacht and Aquastore's Jeanneau Sun Odyssey 319. Ajola will also have a stand in the exhibition area presenting the First 14 sailboat for a crew of one or two.
Larger yachts will be represented by the impressive, almost 8-metre wide Lagoon 42 catamaran, while those who prefer smaller yachts will be interested in the Elf and Elfyn sail rowing boats by Nordic Craft in Porvoo, which are ideal for the Finnish archipelago, as well as the traditionally stylish Ebihen 16 and 4-metre Kumbli skiff by Craftyard in Estonia.
Separate pier for angling boats
Fishing enthusiasts can view angling boats and the latest offerings on a separate pier, where they can also enjoy fishing tips and, of course, this summer's greatest fishing stories. Appearing on the fishing pier will be the "Kalastajan kanava" fishing channel and expert angler Pasi Tuike from Natural Born Fishers.
Equipment, supplies and services
The Helsinki Boat-Afloat Show also presents a wide range of boating equipment, electronics, supplies and services, making it the perfect place for visitors to shop for new items for their boats or crews – or even reserve storage space for next winter.
"This late in the season, boaters will be well aware of what their boats need. The Helsinki Boat-Afloat Show is a great place to make upgrades or find contacts for repairing existing equipment. Without doubt, the best experts in Finland will all be at the show," Pajusalo mentions.
Plenty to experience, see and do for the whole family
Appearing on the main stage will be round-the-world sailors Ari Huusela and Tapio Lehtinen, and visitors can also view a comparison test of antifouling paints and learn about fitting synthetic teak. Over the weekend, the main stage is the perfect place for visitors to begin their tour of the show by viewing the presentations of new boats.
As in previous years, there will be plenty of entertainment around the HSK yacht club, including interesting talks and delicious street food.
Young people will be entertained by the flyboard and water scooter demonstrations, as well as the electric surfboards, while kids can enjoy the entertainment provided by the Finnish Sailing and Boating Federation SPV.
Sailing instructors from PORY ry will be offering visitors the chance to try sailing for the first time, while the Skipperi city boat service will be offering rides on their motorboats.
The ABC of Boating ("Veneilyn Aapinen") is an excellent source of information for new boaters – and a good refresher for experienced boaters – that will be distributed at the show. The booklet is available in Finnish and Swedish.
Hygiene precautions at the show
In order to maintain the highest levels of hygiene, special attention is being paid at this year's Helsinki Boat-Afloat Show to areas that could become congested, such as the piers. The number of visitors in these areas will be monitored, there will be plenty of places to wash and disinfect hands throughout the area, and face masks will be available.
Access to the Helsinki Boat-Afloat Show will also be monitored to ensure that the organiser is aware of the number of visitors at all times. Visitors will be asked to provide contact information so that they can be informed of any possible exposure to infection.
Cash will not be accepted at the entrance; instead, visitors can pay by bank card or credit card. Visitors are also encouraged to purchase their tickets online in advance from the uiva.fi website.
"Naturally, we trust that no one will come to the show if they have any symptoms and that visitors will maintain cough etiquette according to the general guidelines while also maintaining a safe distance between themselves and others at the show," Pajusalo points out.
The Helsinki Boat-Afloat Show takes place at the HSK yacht club in Lauttasaari, 13–16 August 2020. The opening hours are 12noon–8pm on Thursday and Friday and 10am–6pm on the weekend. Further information and online ticket sales: www.uiva.fi